Herbert Freeman (1924-2019)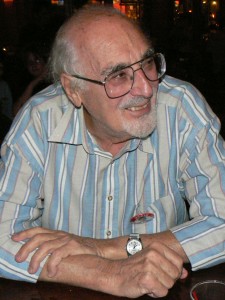 Herbie (Herbert W.) Freeman, 95, died November 1, 2019 in Tucson, AZ, surrounded by family.
Herbie was born in Brooklyn, on October 28, 1924, to Samuel and Vishe (Feigenblatt) Freeman. His older brother, Jack, was killed while fighting in Spain with the International Brigades for the Spanish Republic when Herbie was only 14. Herbie remained a supporter of the Lincoln Vets and the Abraham Lincoln Brigade Archives (ALBA), joining in commemorative trips to Spain, the last time in 2006.
Herbie graduated from Boys' High, but then left Brooklyn College to serve in the Pacific with the US Army Air Corps during World War II. After demobilization, Herbie married Irene Miller in 1946. They had three children: Joshua, Rebecca, and Amy. Irene died of cancer in 1980.
A linotype operator for many years, Herbie returned to school in his mid-30s, with 3 children and a full-time night-shift job, and graduated from NYCC at the top of his class with a degree in Graphic Arts. He continued his career as a printing production manager and color expert, well into his eighties.
A lifelong New Yorker, Herbie was an activist, friend, and vibrant presence of the Upper West Side of Manhattan for over 50 years. He was a champion of workers' rights and social justice. Even when disabled, he continued his activism in Tucson, participating in the Women's March and protesting the lack of sane gun control. He was a complex man who enjoyed a good debate, yet his intelligence, warmth, and charisma made him friends of all ages wherever he went.
In addition to his parents, brother, and wife, Herbie was predeceased by his grandson, Matthew. He is survived by his children, son-in-law Bill Bemis and daughter-in-law Pat Kelly, grandchildren Adam (Jessica) Freeman, Sonja Prins, and Andrew (Jenn) Bemis, great-grandchildren Harry and Sierra, and longtime companion Rita Delespara. Herbie's family extended far beyond the biological, as he was an "adopted" father, grandfather, and brother to many.
In lieu of flowers, contributions may be made to the Abraham Lincoln Brigade Archives or the magazine Jewish Currents. A memorial service in NYC will be planned for spring or summer of 2020.