The Lincoln Brigade: An Exclusive Excerpt from the New Graphic Novel by Pablo Durá
Pablo Durá is the author of The Lincoln Brigade, a new graphic novel based on the life story of Oliver Law, of which we are proud to feature an excerpt in this issue. The drawings are by Antonio Rojo and Puste, and Ester Salguero is the colorist. In recent years, Durá has written for Marvel Comics.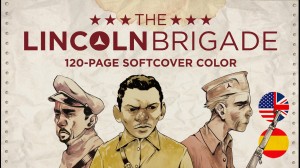 Durá: "I found out about the Lincoln Brigade by pure chance some 10 years ago and thought it was absolutely fascinating—particularly the figure of Oliver Law. I remember thinking: Why isn't there a bio-pic about this guy, the first African-American to command a fully integrated unit of American soldiers in American history?  The Lincoln brigade graphic novel isn't a history book, is a fiction story based on real events and characters. At the end of the day, I need to tell a story that will be both engaging and fun to read but historically accurate.
"My main goal is to keep the memory of the volunteers alive. Due, largely in part, to the 'code of silence' imposed by those who signed the 1978 constitution in Spain, school programs tiptoe around anything remotely close to the Spanish civil war. I feel my generation, who was born in a free Spain, has failed the International Brigades volunteers' memory and heritage, by allowing far right radicalism to re-emerge in Spain. So, if this graphic novel can help and play a small part in keeping the memory of those who came to Spain alive, I'd be very happy.
"I have been contacted by the relatives of two of the Abraham Lincoln brigade volunteers and they have expressed how happy they are that we are making this book about them, wishing us all the best in our endeavor. Their support means everything to me, it gives me strength to continue on this path and to work hard to make sure this project sees the light of day."
The 120-page paperback graphic novel will be published in May 2017. To reserve your copy, send a check for $36 to ALBA, 799 Broadway, Suite 341, New York, NY 10003 (S&H included)