Book Review: Carlos Giménez's Paracuellos
Carlos Giménez, Paracuellos: Children of the Defeated in Franco's Fascist Spain, with foreword by Will Eisner, edited by Dean Mullaney, and translated by Sonya Jones, San Diego: EuroComics (IDW Publishing), 136 pp.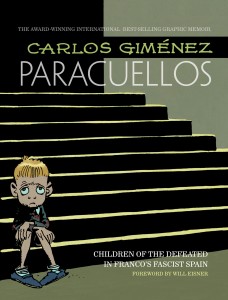 Readers of The Volunteer know by now that comic art about the Spanish Civil War is a growing field here in the US, in Europe and certainly in Latin America. Yet readers might not recognize the older context from which this growth unfolds: a long backstory spanning the past quarter century that has brought an art form as critically despised as it has been popular, especially in the English language, into clearer view.
Comic art realism may be understood historically in any number of ways, but global scholars largely agree that realistic "action" comics, especially war comics, can be traced to the US and EC Comics of the early 1950s. Harvey Kurtzman, better known as the founder of Mad Magazine, developed a series of well selling, mainstream comics about military conflicts across the ages. The most vivid of them recounted the Korean War through stories that returning GIs told to Kurtzman. In contrast to other war comics, these stories romanticized nothing, neither the suffering of the GIs nor their opponents, or the tragedy of civilians caught in the middle. They were fundamentally antiwar comics. They were finished and printed in an old style, with aging German-American craftsmen in print shops adding the final touch to the original penciling and coloring, creating a kind of collective assembly line of popular culture in its day.
---
Giménez precedes the wave of autobiographical comic writers like Spiegelman, Pekar, and Bechdel.
---
These kind of comics disappeared in the McCarthy Era with its assault on the form as ruinous to young people, and the eventual decline of the EC enterprise. Only Mad Magazine survived, mostly because it was printed as a magazine and was thus free from the threat of newsstand removal that the Catholic Legion of Decency had promised in those years. It is valuable to note that Kurtzman inspired the next generation of artists, who came of age in the late 1960s through the 70s, and who, in general, developed a wide range of radical, antiwar, ecological comics better remembered for their sexual openness than for their politics. Visual recollections of the antifascist struggles and the Spanish Civil War were rare but not unknown.
This surge of comic art largely faded in the US at the end of the 1970s. But in Europe, the artistic counterparts found a home in the mainstream magazines and to some extent, quality book publishers. Among them, Carlos Giménez was assuredly unique. One of the children who survived the Francoist slaughter of their parents in the brutal repressions, Giménez commenced after the dictator's death to draw and publish his own saga, and that of the children around him throughout the period between the end of the war and the 1950s. His work is fundamentally autobiographical, and in this way Giménez represents and really precedes the wave of autobiographical comic writers and artists much more famous in the US, such as Art Spiegelman, Harvey Pekar, and Alison Bechdel, to name just a few whose work is largely responsible for raising critical awareness and approval and, frankly, comic art values to levels unseen before.
Giménez's work, Paracuellos, which first appeared in Spain in 1981 was recognized almost immediately as important both artistically and politically. Still, though renowned, it has taken more than 30 years for an English-language version to arrive. This appearance is both long awaited and ballyhooed. The foreword to this volume is a one-paragraph personal tribute by the late Will Eisner, one of the deans of US comic book story telling and art, which he wrote in 1991. This volume proves that the wait for an English-language Paracuellos has been well worth it.
For scholarly-minded readers, the introductory interpretations by Antonio Martin, the leading historian of Spanish comics, and Professor Carmen Moreno-Nuño, will be compelling. Martin reminds us that Giménez's work was begun in the Franco era, with early installments bringing the writer death threats. Spain's right-wing rulers certainly did not want to have the torture portrayed in this comic so graphically rendered and remembered. Professor Moreno-Nuño's "Confronting Spain's Absent Past," surveying the full six volumes, of which this is only the first, tells us what will happen to these children, and carefully explores the aesthetics and the genius of the artist's effort. Close-ups, indeed often extreme close-ups, sharply reduce the distance between this history and the reader. The faces of various authorities ruling over and abusing children appear as distorted and nightmarish, just as they would to a distressed child. A plethora of comic panels, sometimes as many as 20 per page (more than triple what usually appears on the comic page), drive home the grim details.
---
These are real children, seen from a child's perspective, as compelling as any comics ever published.
---
Yet, this work does not slip into the hyperbole that defined the best-selling US war comics of the early and middle 1940s, which might have thrilled millions but inspired the censorship of the McCarthy era. Giménez might easily have engaged in this hyperbole, but he did not. Instead, we have something that resembles the realistic art of the "funny pages." These are real children, seen from a child's perspective, as compelling as any comics ever published.
A "Dedication" to the second part, composed by Giménez himself, gives us more details about his inspiration, his first publisher, and most of all the young people around him— "the chewers, camels, dromedaries, monkeys, bed-wetters and pants-shitters…gluttons and teasers and masturbators…teachers' pets," and so on. In short, with graphic intensity and honesty, he tell us: I was one of them, and in some ways, I still am.
Formerly a senior lecturer at Brown University and a biographer of Harvey Kurtzman, Paul Buhle has become a comics editor and sometimes scriptwriter, with a dozen titles to his credit, including a future Lincoln Brigade comic scripted by Michael Ferguson and drawn by Anne Timmons.