"The Earth Endureth Forever": Hemingway in Spain
The dead do not need to rise. They are part of the earth now and the earth can never be conquered. For the earth endureth forever. It will outlive all systems of tyranny.

Ernest Hemingway, "On the American Dead in Spain,"

New Masses, February 14, 1939
Diverse opinion abounds with regards to Hemingway's actions during and after Spain's Civil War. The Spanish journalist and diplomat Álvarez del Vayo recalled that "I talked with him [Hemingway] in Madrid and I realized the Spanish [civil] war was fundamentally alien to him. Hemingway's was the Spain of the running of the bulls at the Fiesta of San Fermín in Pamplona." [1] Another observer describes Hemingway as a naïve pawn of Comintern agents who sought to make Spain a client state of the Soviet Union: "Intellectuals can hardly keep away from politics any more than other citizens, and probably less, especially in decades like the nineteen-thirties. But, because they typically bring to it an unstable mix of abstraction and narcissism, their judgments tend to be absolute, when nothing in politics ever is. This is why a writer as devoted to the visible, concrete world as Hemingway could nonetheless stumble so badly during his time in Spain: he lacked a sense of politics." [2] Two authors posit that Hemingway (1899-1961) came to be viewed by Spaniards as "a sort of joke, in fact." [3]
Others depict Hemingway in a more positive light. In the mid-1980s, Marion Merriman (wife of Abraham Lincoln Brigade commander Robert Merriman) stated that "Hemingway let you know by his presence and through his writing exactly where he stood. Hemingway had told the world of the murder in Madrid, including the murder of children by fascist bombing…Hemingway knew what the war was all about." [4] Writing in 2011, professor of English Alex Vernon asserted that "Hemingway went to Spain because he loved Spain. He had to see the war for himself. He also had to do what he could to save Spain, from fascism, by providing the ambulances and by promulgating his perspective through his writing and the film [The Spanish Earth, commented upon below] – the proceeds of both he turned into material support." [5]
How might we evaluate Hemingway's endeavors as they related to the Spanish Civil War? Did Hemingway comprehend the social tensions and politics within Spain previous to and during the Civil War? To what extent was Hemingway effective as a journalist who covered the war and an activist who supported the Republic? Did Spaniards and others view Hemingway as a legitimate interpreter of their country or merely as "a joke"?
In what can been described as Hemingway's "first period" in Spain between 1923 and 1933, the author ventured to Spain 15 times, those visits ranging in duration from one day to 92 days. During eight of those years, he traveled widely for months at a time throughout Spain. In the north, he stayed in Pamplona, Aoiz, Burgos, Palencia, Zaragoza, San Sebastian, Burguete, and Santiago de Compostela. In the center region, Madrid, El Barco de Ávila, Aranjuez, Segovia, and Ávila. In the west, La Granja in Extremadura. In the south, Seville, Ronda, and Granada. In the east, Montroig, Huesca, Lérida, Tarragona, and Valencia. Motives for these journeys included observing bullfights, fishing in rivers, a desire to explore and finding "good places for working."
In 1931, Hemingway spent a total of 111 days in Spain during two visits (ca. May 14 to June 1 and ca. June 16 to September 15). It was his longest combined stay to date, close to four months in total. He found himself at the center of a political storm. The military dictatorship under General Miguel Primo de Rivera (in power from 1923 until January 1930) had been overthrown. Spanish capitalists, who included large landowners aligned with the financial and industrial bourgeoisie, faced strikes by a militant industrial proletariat in Seville, San Sebastián, Bilbao, Córdoba, and Barcelona along with violent protests by rural braceros (workers). Many ills plagued Spain. Historian Sandie Holguín has written that "the political system reeked of corruption and inefficiency; peasants and landless rural laborers – especially in southern Spain – faced severe economic shortages, while absentee landlords living in Spain's major cities extracted high rents from them; the Roman Catholic Church interfered in the workings of the state and allied itself with the forces of reaction; the military remained bloated with a top-heavy command structure; Socialist and anarchist workers threatened middle-class interests; illiteracy was rampant; and regional nationalisms, especially in Catalonia, threatened the already precarious state known as Spain." [6] The victory of a coalition of Socialists and middle-class Republicans in urban elections of April 12, 1931 (one month previous to Hemingway's arrival) forced King Alfonso XIII to flee two days later. The government of the Second Republic (a short-lived First Republic lasted from February 1873 to December 1874) made it clear that "it intended to use its suddenly acquired share of state power to implement a far-reaching program to create a modern Spain by destroying the reactionary influence of the [Catholic] Church, eradicating militarism and improving the immediate conditions of the wretched day-laborers with agrarian reform." [7] Spain was a poor, backward country which progressives sought to transform into modernity.
Hemingway viewed the election with a mixture of elation and foreboding. In the words of New Yorker Paul Quintanilla, "Hemingway was 'euphoric' about the arrival of the Republic. Though totally nonpolitical, my father [Spanish artist and Republican Luis Quintanilla, close friend of Hemingway] tells us he [Hemingway] was 'profoundly democratic and liberal in his ideals,' and so great was his enthusiasm that he saw the Republic's creation as a 'personal victory,' for he hoped the new government would finally rectify the numerous abuses the Spanish people had endured for centuries." At the same time however, Hemingway looked to the future with trepidation. Hearing gun battles in the streets near the apartment where he was staying Hemingway warned that "the Republic should begin to prepare to defend itself. It is a democracy born in a bad moment – Europe is moving toward dictatorships." [8]
Within months, the Republic introduced numerous reforms. These included the expansion of accident, maternity, and retirement insurance to tens of thousands of workers who had never received such coverage, government regulation of labor disputes, promotion of labor unions, and limited working hours. It funded public works projects similar to the Work Progress Administration in the United States.
Diffusion of culture became a priority. "Members of the intelligentsia attempted to sow the seeds of a cultural revolution."[9] Following examples from the Soviet Union and Mexico, the government sponsored cultural projects, educational programs and art projects. "Women were granted the right to vote, divorce and abortion were legalized, and information about birth control was freely distributed." [10] Ministries provided subsidies to school teachers, artists and poets. Activists ventured to villages to inform illiterate folk about basic hygiene and farming techniques. They brought mobile lending libraries and museums, puppet shows, musical concerts and slide presentations to the countryside. The famed poet Federico García Lorca formed the theater troupe La Barraca (The Tent) to present live drama to campesinos who had never seen a play. "We will take Good and Evil, God and Faith into the towns of Spain again, stop our caravan, and set them to play their parts in the old Roman theater in Mérida, in the Alhambra, in those plazas all over Spain that are the center of people's life, those plazas that see markets and bull-fights, that are marked by a lantern or cross." [11]  These endeavors attracted crowds and brought immediate results.
Conservatives quickly responded. Embracing a Spanish version of fascism, they espoused aggressive nationalism and a virulent racism. Claiming to be Nationalists determined to save the motherland, right wing sectors repressed all forms of labor mobilization, accused liberals of being manipulated by dangerous foreign elements, destabilized the democratically-elected government and fomented hatred. In a letter to his editor and friend Maxwell Perkins penned in August 1931, Hemingway wrote "[I] wish there were some market for what I know about the present Spanish situation. Have followed it as closely as though I were working for a paper. Damned hard to break habits."[12]
Opposition to the government reached a fever pitch by the middle of 1933 (Hemingway present from ca. August 17 to October 21). In the spring of that year, a protest led by Communists and Socialists who carried Red flags and shouted revolutionary chants in the province of Badajoz ended with Republican Civil Guard soldiers shooting into the crowd. Four men and one woman were killed and fourteen people wounded. The Civil Guard arrested forty workers, several of whom were beaten. Instances of private militias shooting at and terrorizing braceros mounted. Using hunger as a weapon to coerce workers, owners of estates withdrew land from cultivation. Due to numerous factors, including corruption at the polls and right-wing violence, the Republican government lost in municipal elections in April and national elections in November. In the aftermath, "landowners returned to the semi-feudal relations of dependence that had been the norm before 1931." [13]
Hemingway observed closely these events. He traveled, attended bullfights, conversed in cafés, communed with urban and rural environments: all of these experiences provided insights about Spanish culture and history. Spain was (and is) a society where the rich, middle class and poor are often in close proximity. Shaped by interactions with the Ojibway Indians in northern Michigan during his youth and the devastating impact of the Depression, Hemingway was sensitive to marginalization and the underclass. Traversing urban streets and rural roads of Spain, Hemingway took measure of the poverty that surrounded him. These impressions influenced subsequent decisions and actions.
A critic of Hemingway during this period was the Spanish literary critic Francisco Ynduráin: "Outside the bullfight, Hemingway has not seen, has not been interested in almost anything else, except for the people and the landscape. Do not expect him to talk to you about our history, our art, way of thinking, or literature. His experience is voluntarily limited." [14] The Spanish diplomat Salvador de Madariaga judged Hemingway in a more positive light: "He was no longer the gaping tourist, the go-getter businessman, the Protestant ever ready to frown at Catholic superstition, the progressive commiserating on backward Spain. He was that rare thing, a human being; open-eyed, open-handed, open-hearted, a man ready to learn, to understand, to appreciate, to see beneath the surface." [15]
1936 was a critical turning point in Europe and for Ernest Hemingway. Dividing time among Key West, the Bimini islands in the Bahamas, and Wyoming, the author focused on finishing the novel To Have and Have Not (1937). Themes include corruption among well-to-do, the impact of the Depression and poverty on common folk, illegal smuggling of alcohol and people, and revolutionary upheaval in Cuba. Although the events depicted in To Have and Have Not occur in Key West and Havana, they compared closely to the polarization and quagmire of hatreds that led to Civil War in Spain.
In the weeks following the military rebellion of July 1936, Hemingway read and heard about Republican soldiers and quickly-mobilized citizen militias battling to halt Nationalist troops and Franco's Army of Africa as they ground north toward Madrid. He immediately commenced planning a return to Spain. In a letter to Maxwell Perkins, Hemingway wrote "I've got to go to Spain….Franco is a good general but a son of bitch of the first magnitude and he lost his chance to take Madrid [by means of the siege of that city after July 1936] for nothing by being over cautious." [16] In December Hemingway met the journalist Martha Gellhorn at Key West, who would become his lover and third wife. A fierce critic of fascism and astute observer of international affairs, her words contributed to his decision to act.
In early 1937, Hemingway departed for Europe. During what can be described as a "second period" in Spain, he visited the country four times, all of which occurred as fighting raged: March 16 to May 9 and September 3 to December 28, 1937, and ca. April 1 to May 14 and ca. August 31 to November 15, 1938 (a total of close to ten months). He traveled to and stayed in numerous cities and villages, including Barcelona, Valencia, Alicante, Madrid, Brihuega, Guadalajara, Albacete, the Sierra de Guadarrama, Fuentidueña during filming of the documentary entitled The Spanish Earth, Belchite, Brunete, Chicote, Villanueva de la Cañada, Teruel, Tarragona, Rasquera, Tortosa, Cherta, Ulldecona, Santa Barbara (Catalonia), Mataró, Castellón, Falset, and Ripoll. He witnessed several of the most important battles, including at Brihuega in Guadalajara, in the Casa de Campo neighborhood on the outskirts of Madrid, at Quinto, Belchite, Teruel, Grandesa, Tortosa and the front along the Ebro River in April, 1938. [17]
Hemingway was incensed by what he observed. In a letter to Harry Sylvester, he lamented: "The Spanish war is a bad war, Harry, and nobody is right. All I care about is human beings and alleviating their suffering which is why [I] back ambulances and hospitals. The rebels [Nationalists] have plenty of good Italian ambulances. But it's not very catholic or Christian to kill the wounded in the hospital in Toledo with hand grenades or to bomb the working quarter of Madrid for no military reason except to kill poor people; whose politics are only the politics of desperation. I know they've [Republicans] shot priests and bishops but why was the church in politics on the side of the oppressors instead of for the people – or instead of not being in politics at all?" [18] Hemingway denounced the massive aid provided by the fascist governments to the Nationalists and called upon the United States government to intervene on the side of the Republic.
When the Civil War broke out, Hemingway had been observing and writing about United States and international politics for two decades, including as a journalist for the Kansas City Star (October 1917 to April 1918) and the Toronto Star (February 1920 to December 1924). Numerous sources (private correspondence, newspaper articles, short stories) provide evidence that he possessed an impressive capacity of social analysis. Although more interested in cultural expression, reading and writing fiction, Hemingway immediately grasped the political implications of the war. As a result, he returned to Spain as a journalist and sought international aid for the beleaguered Republic.
Hemingway wrote 31 dispatches for the North American Newspaper Alliance (NANA) related to the civil war. Of these, 28 were published in newspapers in the United States, Canada, and in several European countries. Two dispatches were never published and remain as manuscripts in the Hemingway Collection at the Kennedy Library. It seems that a third one was destroyed. He penned his last NANA article in Madrid and it was published on May 10, 1938. From April to September of 1938, he published 13 articles in a Chicago-based magazine entitled Ken. In October, the Subcommittee to Investigate Un-American Activities of the U.S. House of Representatives forced Ken editor Arnold Gingrich to provide testimony due to the publication's liberal slant.
Soon after hostilities commenced in July 1936, Hemingway expressed sympathy for the Republican government. In a letter to friend and fellow journalist Harry Sylvester, he wrote that "It's none of my business and I'm not makeing [sic] it mine but my sympathies are always for the exploited working people against the absentee landlords even if I drink around the landlords and shoot pigeons with them. I would as soon shoot them as the pigeons." [19] This support intensified during his stays in Spain in 1937 and 1938 after experiencing bombings by Italian and German planes.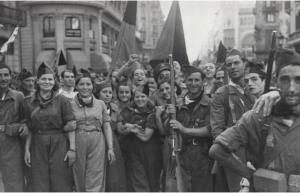 In Defense of the Republic
Several articles by Hemingway offer astute insights about the hostilities. He analyzed the war plans of the Nationalists and offered suggestions on how the Republican army should proceed. He connected local, regional and national events. He made it clear that the successful defense of Madrid was essential to the survival of the Republic. His claims that Franco would try to separate Madrid from Valencia (location of the Republican government-in-exile after November 1936) or Barcelona from Valencia proved exactly correct. When Nationalist troops broke through to the Mediterranean Sea at Vinaròs on April 14, 1938, he focused on how best Republican forces might defend against what he believed would be (correctly) a northward thrust by Nationalist troops toward the key Republican city of Barcelona. In an essay published in Ken on August 11, 1938, Hemingway predicted that a European war would break out within a year. Hitler invaded Poland on September 1, 1939; Hemingway was off by 21 days. [20]
Hemingway shared useful knowledge and commentary about Spain through his newspaper articles and magazine essays. Often in a curt style with allusions that could appeal to the reading public in the United States (baseball, boxing, football, Bull Run, Gettysburg, a Wyoming blizzard, Davy Crockett, Daniel Boone, the natural world, etc.), he shed light on history, geography, how "the old Indian fighting tactics" impacted the war, social conditions in cities and countryside, the desperate plight of thousands of refugees, and international relations. Few other journalists or sources offered such clear analysis and comparison. Pleading for leaders of the western democracies to come to their senses, Hemingway wrote (in April 1938) that "One thing is certain now. If you want to break fascism you have to hit it at its weakest link. Its weakest link is Italy. It will take them some time to form another chain if that link goes. It will take plenty of time if the other allies, Germany and Japan, lose confidence in that link. Fascism can still be beaten in Spain the same way Napoleon was beaten in Spain." [21]
Hemingway did not hedge in accusing influential figures of incompetence and stupidity. In the St. Patrick's Day bombing of Barcelona on March 17, 1938, 875 individuals perished. Among the dead were 118 children. In spite of clear evidence showing Nationalist responsibility, Cardinal Patrick Hayes of New York continued to pray for General Franco's forces, claiming that "Loyalists are controlled by radicals and communists." Hemingway's retort: "Now somebody dropped the bombs that killed 118 children. The Cardinal says he is sure it wasn't Franco. So that is ok with me. It wasn't Franco. Franco wouldn't do anything like that. We have it on the Cardinal's authority."[22] With regards to Prime Minister Neville Chamberlain of England, "He is not a fool, and when he makes a deal with Italy, it is a deal for the immediate best interests of the shareholding class he represents. It is also a deal for the industries he represents….Mr. Chamberlain cannot lose. He is too old to fight and if war [in Europe] does not come he makes much money. If war comes, he makes much more since war is the health of the state and certainly the health of all the heavy industries…Politicians cry for history. But they act for expediency and for profit and loss; and above all they act to hold their jobs…They know how right they were [in not intervening in the Spanish Civil War], how good their hearts were, and for a minute they see themselves as statesmen and as historic figures; not as the pitiful, conniving, frightened people that they really are." [23]
Hemingway did not hide the fact that he supported the Loyalist cause. Even when the situation worsened dramatically in mid-1938, he continued to claim that the Republic could hold off defeat by Franco's armies. This opinion was one shared by Prime Minister Juan Negrín and ministers who desperately hoped that France and England would come to the aid of the Republic. Such distortion detracted from "objective" reporting. Yet throughout, one must never overlook that a priority, perhaps his highest priority, was Hemingway's determination to warn anyone listening that what was happening in Spain would soon follow in Europe. He bore testimony to Franco's deliberate bombing of working class neighborhoods in Spain's cities (so-called "Red" districts) and the terror unleashed on civilians by fascist troops. Professor Paul Preston affirms that "in some cases, such as Ernest Hemingway, Martha Gellhorn and Louis Fischer, they became resolute partisans, to the extent of activism yet not to the detriment of the accuracy or honesty of their reporting. Indeed, some of the most committed correspondents produced some of the most accurate and lasting reportage of the war." [24]
Hemingway's activism has aroused discord. By activism I mean endeavors that spread awareness about what was happening in Spain during the Civil War and to raise funds for the Republic. Detractors suggest that Hemingway's political naiveté resulted in wasted efforts to support a corrupt government doomed to defeat from the first days of the military insurrection. Others contend that Hemingway became adept in manipulating the media and gauging popular culture. International renown as a writer further expanded a huge ego. His embrace of leftist causes and the Loyalist side occurred only because it was fashionable and could bring him greater attention. More favorable opinion posits that Hemingway genuinely believed in the ideals of the Spanish Republic and did his very best to aid La Causa.
The Hotel Florida in Madrid provided a base for Hemingway's activism and travels to battle fronts near Madrid. His room became well known as a locale for journalists, intellectuals and combatants to congregate. "Here they enjoyed hot baths, Hemingway's private store of delicacies –hams, cheeses, even caviar – and a magical fifth of scotch that never dwindled." [25] After arriving in Valencia in late March 1937, Martha Gellhorn caught a ride to Madrid with Hemingway's friend Sidney Franklin. The car was filled with "six Spanish hams, 10 kilos of coffee, 4 kilos of butter, 100 kilos of canned marmalade, and a 100-kilo basket of oranges, grapefruit, and lemons." [26] Was this not the bait used to attract big fish for conversation and engagement? Hemingway's room and the Hotel Florida brought together a remarkable cast of figures, including André Malraux and Antoine Saint-Exupéry from France, Elena Garro, Blanca Trejo and others from Mexico, Ramón Lavalle from Argentina, the Hungarian Robert Capa, the Germans Hans Kahle, Anna Seghers and Sefton Delmer, the Austrian Franz Borkenau, the Dutch filmmaker Joris Ivens, Henry Buckley, W.H. Auden, Stephen Spender, and Henry Buckley from England, Jay Allen, Louis Fischer, John Dos Passos, Langston Hughes, Josephine Herbst, Virginia Cowles, Lillian Hellman, Dorothy Parker, Martha Gellhorn, Malcolm Cowley, Vincent James Sheean and Herbert Matthews of the United States, and the Russians Mikhael Koltsov and Ilya Ehrenburg, among others (see HBO film Hemingway and Gellhorn). Hemingway exhibited an insatiable desire to keep abreast of the war in Spain as well as events in Europe and the United States.
In spring 1937, Hemingway aided Joris Ivens in preparing the documentary The Spanish Earth.  Showing scenes of battle, poverty endured by campesinos in the countryside and bombings by Italian planes, Ivens produced one of the most important anti-fascist documents of the civil war. [27] Hemingway contributed $5,000 toward financing the documentary, helped in the filming and later back in New York City wrote and narrated the documentary's voiceover. In spite of its being incomplete, Hemingway took the documentary on the road. At a private showing at the White House, Gellhorn, Ivens and Hemingway encouraged President Franklin Roosevelt and wife Eleanor to send aid to the Republic. In California, Hemingway was present at several screenings in private homes and one at the Los Angeles Philharmonic Auditorium. This effort raised 20,000 dollars ($328,000 today) which paid for twenty custom Ford ambulances much needed by the Republic.
One presentation of The Spanish Earth occurred at the Second Congress of American Writers that convened at Carnegie Hall in New York City on June 4, 1937. In a speech and subsequent article published in New Masses, Hemingway shared perspectives that today ring eerily prophetic: "Whether the truth is worth some risk to come by the writers must decide themselves. Certainly it is more comfortable to spend their time disputing learnedly on points of doctrine. And there will always be new schisms and new fallings-off and marvelous exotic doctrines and romantic lost leaders, for those who do not want to work at what they profess to believe in, but only to discuss and to maintain positions – skillfully chosen positions with no risk involved in holding them, positions to be held by the typewriter and consolidated with the fountain pen. But there is now, and there will be from now on for a long time, war for any writer to go to who wants to study it. It looks as though we are in for many years of undeclared wars." [28]
The speech resonated in diverse communities. Present that night at Carnegie Hall, African American poet Langston Hughes "held in high regard Hemingway's keynote…Hughes responded ardently to Hemingway's observation that 'a writer who will not lie cannot live and work under fascism.'" [29] Traveling to Spain soon after as a correspondent for the Baltimore Afro-American, Hughes warned in an essay directed to black readers in the United States that "if fascism creeps across Spain, across Europe, and then across the world, there will be no place left for intelligent young Negroes at all." [30]
Hemingway assisted the Republic on many fronts. He contributed $1,500 to the Medical Bureau of the American Friends of Spanish Democracy to help in the purchase of ambulances. He paid passage for a few Lincoln volunteers to journey to Spain, including the poet-ambulance driver Evan Shipman. He financed an exhibition of engravings by his friend the Spanish artist Luis Quintanilla, published essays in Quintanilla's exhibition catalogues and wrote a preface for Quintanilla's collection All the Brave: Drawings of the Spanish War (1939). He wrote a preface for Gustav Regler's autobiographical novel about the civil war entitled The Great Crusade (1940). He donated the typescript of the poem "The American Dead in Spain" and the manuscript of The Spanish Earth for auction to raise monies to help returning volunteers to the United States.
Another form of activism was Hemingway's relations with international volunteers who fought for the Republic. Some two months after the outbreak of the civil war in Spain, leader of the Soviet Union Joseph Stalin called upon communists and anti-fascists to travel to Spain to help defend the Republic. Over the next two years, 40,000 female and male volunteers from 52 counties heeded that appeal. They became known as International Brigades. Among these brigadistas were some 3,000 citizens of the United States. A remarkably diverse group, one list of 1,745 volunteers from the United States included thirty distinct nationalities. [31] Three quarters of the U.S. contingent were members of the U.S. Communist party, at least one third were Jewish, ninety were African American and seventy were female. Although motives for joining varied, all saw fascism to be a major threat to Spain and the world. Brigadistas played a crucial role in the defense of Madrid and Catalonia. They provided desperately needed medical attention to wounded Republican soldiers. "By May 1937 the International Brigades alone had fielded twenty-four hospitals providing six thousand beds: six in Albacete, four in Murcia, three in Alicante, seven in Cuenca, one in Jaén, a huge complex of more than three thousand beds in Benicàssim at Castellon de la Plana, and small hospitals at Belalcázar and Madrid." [32]
Their accomplishments have never been forgotten by many Spaniards, singers (such as Pete Seeger from the U.S. and Christy Moore of Ireland), intellectuals and at battle sites.
In spite of protest from across the political spectrum in the United States and Europe, Hemingway paid homage to the courage and commitment of international volunteers. He traveled to battle fronts to observe and learn. Lincoln Brigadista Alvah Bessie noted that Hemingway "asked questions like a kid: 'What then? What happened then? And what did you do? And what did he say?'" Hemingway invited these fellow Americans to the visit at the Hotel Florida. Poet and Lincoln Brigadista Edwin Rolfe reminisced that during his stopovers "there was never enough food, but always poetry."[33] Soon after his return to the United States from Spain, the communist magazine New Masses published Hemingway's essay entitled "On the American Dead in Spain." In it, the author reflected on the eight hundred American volunteers who gave their lives in defending the Republic. "Our [U.S.] dead live in the hearts and minds of the Spanish peasants, of the Spanish workers, of all the good simple honest people who believed in and fought for the Spanish Republic. And as long as all our dead live in the Spanish earth, and they will live as long as the earth lives, no system of tyranny will prevail in Spain." [34] Martha Gellhorn wrote that the only time she saw Hemingway cry was when they learned about the departure parade of the International Brigades in Barcelona in late 1938. He knew that the defeat of the Republic was on the near horizon.
Not all recollections of Hemingway's presence in Spain during the war and ties to the Lincoln Battalion were depicted in a positive light. In the words of former commander Milton Wolff (writing in 1981), "he [Hemingway] was a 'tourist' in Spain, a voyeur who darted in and out of action as it pleased him…[he] was free to choose where to go, when to go, when not to go." The result was "that for Hemingway the essence of commitment to the struggle [in defense of the Republic] did not exist." [35] Perhaps this perspective has merit. Yet, it should be noted that in attempting to comprehend events and write insightful articles, Hemingway needed flexibility to decide on what to do and where to go each day.
Hemingway's activism included his publications. Hemingway wrote more about the Spanish Civil War than any other single topic. This included the thirty-one syndicated news dispatches for North American Newspaper Alliance and the thirteen essays for Ken magazine noted above; miscellaneous pieces for New Masses magazine; one essay for the Russian newspaper Pravda entitled "Humanity Will Not Forgive This!"; the play The Fifth Column; seven short stories; and the novel For Whom the Bell Tolls. After his return from Spain to the United States (and then on to Havana) in late 1938, Hemingway concluded For Whom the Bell Tolls in July 1940 and the book was published three months later. Chosen as a selection by the popular Book of the Month Club, the novel quickly became a national and international best seller.
How might we best evaluate Ernest Hemingway's presence and activities in Spain during the Civil War? To respond to this question, it is best to begin with an overview of his "third period" in Spain during the 1950s. As noted above, Hemingway's "first period" in Spain included fifteen visits between 1923 and 1933. During the "second period" he visited the country four times between 1937 and 1938. After the defeat of the Republic in April 1939, Hemingway claimed that he would not return to Spain with the Franco regime in power. He changed his mind. In July 1953, Hemingway's third period commenced with a visit of approximately 28 days (July 3 to end of month). This was followed by a visit of five days in 1954 and 58 days in 1956. The motive for these three trips to Spain was to prepare an appendix for an updated edition of his study of bull fighting entitled Death in the Afternoon (1932). Inspired by the record-breaking success of the novel The Old Man and the Sea (1952) when it appeared in magazine excerpts, Life magazine hired Hemingway to write a journalist essay about two famous matadors during the taurine season in summer 1959. To accomplish this, Hemingway journeyed through Spain for 173 days in 1959 and 75 days in 1960. The last two stays are particularly relevant, given that we know the most about these visits and that Hemingway wrote about his experiences in a travelogue entitled The Dangerous Summer (written 1959-60, published posthumously in 1985).
Eager to relive joys of the past, Hemingway returned to numerous locations during the 1950s where he had spent time in the 1920s and early 1930s. In spite of being an "aging, traumatized celebrity," it is striking the range and pace of Hemingway's travels during his nearly six-month sojourn of 1959. [36] Cities and towns where he stayed during the tour included Algeciras, Málaga, Granada, Córdoba, Sevilla, Valdepeñas, Aranjuez, Madrid, Burgos, Bilbao, Lagroño, Pamplona, Zaragoza, Barcelona, Valencia and Alicante. He also ventured just over the French border to the cities of Biarritz and Bayonne.
Historical memory of the Civil War haunted Hemingway. In a quiet moment before a bullfight, he acknowledged that "Antonio [Ordóñez, famed torero, friend and key personage in The Dangerous Summer] knew I prayed for him and never for myself. I was not fighting and I had quit praying for myself during the Spanish Civil War when I saw the terrible things that happened to other people and I felt that to pray for oneself was selfish and egotistical." [37] Driving along the Mediterranean coast, he "passed the places where the fighting had been and I did not try to explain the operation or the siege to [his companion] Bill [Davis] but only to point out various features of the terrain…The distances were all smaller, as usual, and the deadly cold and snow were gone. But I saw many places that could scare me still by their bare nakedness. Seeing the terrain did not bring back the fight. That had never gone away. But it helped a little, as always, to purge some things that happen on earth to see how little difference it has made to the dry hills that once were all-important to you." [38]
In a nation "still traumatized by the Civil War" and ruled by the iron fist dictatorship of Francisco Franco, Hemingway chose his words carefully. Hoping that a Spanish translation of The Dangerous Summer might get past censors, he subtly evinced continued allegiance to the defeated Republic.[39] As an example, many Alicantinos (residents of Alicante) remained proud (and continue so in 2016!) to be descendents of Republican fighters who repelled the Nationalist and Italian onslaught until the final days of war in April 1939. When Hemingway stayed in Alicante in June 1959, he joyfully met up with "some friends of old friends and a couple of alive old friends" at a restaurant. "The people at the hotel would not let us pay for the room [where he stayed]." [40]
Literary scholar Miriam Mandel astutely notes that place names well known as battle sites and foci of resistance during the Civil War such as Teruel, Alicante, Valencia and Barcelona "are markers for historical events and political commentary that form a muted subtext in The Dangerous Summer. By enabling us to 'read' the narrator's past experience and current situation, they help us evaluate this conflicted personage [Hemingway] who is feted and resented, included and excluded, simultaneously at home [in Spain] and ill at ease, not just because he is an American who achieved fame by writing about the Spanish bullfight, but because he is a Republican sympathizer enjoying himself with rich, well-placed people in Franco's Spain." [41]
Hemingway endured significant physical and mental deterioration during his final decade of life. In 1954, he survived two airplane crashes in Africa within 48 hours. In the second, Hemingway sustained serious injuries to his head, shoulder, back, liver, intestines and kidneys, from which he never recovered. Three car accidents and at least two serious previous head concussions from falls added to his physical afflictions. Besides these traumas, Hemingway suffered from depression, bipolar disorder, at least partial alcoholism, insomnia and anxiety attacks. These last two infirmities worsened during the 1950s due to his belief that he was under surveillance by the Internal Revenue Service and Federal Bureau of Investigation. Files made available after Hemingway's death confirm that his paranoia about F.B.I. surveillance was legitimate. [42]
All of the above resulted in foolish comportment, expressions of personal bravado and steady demise. "The summer of 1959 was characterized by excess and self-indulgence. Surrounded and stimulated by intense bullfighters, their followers, and his own infatuated entourage, Hemingway kept irregular hours, traveled from hotel to hotel, slept badly, ate and drank too much, neglected medical discipline, flirted and perhaps even fell in love with a woman forty years younger than he. He was trying very hard to be happy; I would like to believe that he was. But he certainly was a weakened, troubled man, and he knew it." [43]
Not surprisingly, Hemingway's presence in Spain during the 1950s spurred "rejection, contempt and even mockery."[44] In the opinion of the Spanish journalist José Luis Castillo-Puche, by 1960 Hemingway had become "a joke." "By the time of Hemingway's death (July 1961), many Spaniards mocked or pitied the man, and even the aficionados who had been his closest acquaintances in the country had only 'more or less of a soft spot for him.'" [45] Pablo Picasso, whose career post-Guernica (1937) it should be pointed out has been described as "the longest, saddest anti-climax in the history of art," alluded to Hemingway as "an idiot" [one translation of "Quel con"] when he observed the author at a bullfight in Nîmes, France in 1959. [46]  "The aging, traumatized celebrity who followed the bulls in 1959 was very different from the ambitious, eager young man who had followed them in the 1920s and early 1930s." [47]
A Final Reflection
Previous to the outbreak of the Civil War, Hemingway had moved in and out of Spain on numerous occasions during the 1920s and early 1930s. These stays occurred during the height of the bullfighting season and good weather. He exhibited a genuine enthusiasm for the rich cultures and diverse environments of Spain. He listened intently to richly varied Castilian Spanish vocabulary and phrases (along with regional languages of Galego, Euskara, Catalan, Valencian) that coursed through streets, at bullrings and in cafés. In reminiscing about the 1920s, Pamplona hotelier Juanito Quintana applauded Hemingway's abilities. "I met Ernesto when he first came to Spain. He stayed in my father's hotel. Hotel Quintana, on the square where the Bar Brasil now is [in Pamplona]. [He] couldn't speak any [Castilian] Spanish…I was amazed at how quickly this man could learn."[48] Although perhaps lacking in Spanish conversation skills, he made up for this deficiency in other ways. His intellectual and physical vigor helped him to absorb and appreciate all that Spain had to offer. In the words of Professor Allen Josephs, "Hemingway was always ahead of everybody – with Mussolini, with feminism, with ecological concerns. He was always a step ahead, because he was evolutionary and because he was already a mystic and becoming a multisensory writer [during the 1920s and early 1930s]." In the wake of the military rebellion of July 1936, these earlier experiences and knowledge gleaned aided Hemingway in comprehending history, political division in Spain, and international political economy. [49]
When the Civil War broke out, Hemingway recognized immediately the threat posed by Nationalist fascism. With Spain in flames in May 1937, the Spanish poet Rafael Alberti stated: "If popular opinion in the United States and the political centers now proclaim their sympathy for popular Spain, we owe a lot of it to John Dos Passos and to Hemingway, whose prestige in America is enormous. The whole legend of 'Red Spain' has been undone thanks to their constant labor. All America who works and thinks – laborers, intellectuals, students – is with us."[50]New York Times journalist Herbert Matthews echoed such sentiments. "Madrid, amidst many other happy memories, has that one for me, too – of great days with a man who exemplifies for me so much that is brave and good and fine in a somewhat murky world. Ernest Hemingway is great-hearted and childish, and perhaps a little mad, and I wish there were more like him – but there could not be." [51]
Ernest Hemingway had numerous personal flaws. He was an egotist, often arrogant, treated harshly numerous female and male "friends," abused his wives, often drank to excess, was slow to forget offense and to forgive, and in many instances acted stupidly and irresponsibly. All of these traits surfaced in various settings during his sojourns to Spain from 1923 to 1960. Critics have been quick to denigrate Hemingway for such character defects.
Such faults should not prevent careful consideration of Hemingway's endeavors during the Spanish Civil War. Previous to the outbreak of hostilities, politics were secondary to topics and persons that caught his attention as a writer. After July 1936, alerting the world to the menace posed by fascism became hugely important to Hemingway. In a hostile domestic and international milieu that included isolationism, anti-Communist witch hunts, widespread distrust of democracy, corporate support for fascism, and anti-intellectualism, Hemingway traveled back to Spain in early 1937 to observe first-hand what was happening. He journeyed to battle fronts to bear witness. Recent evidence suggests that he went behind Nationalist lines on behalf of the Republic to gather intelligence about the enemy.
Thanks to Luis Fernández, Nathanael Greene, Jeffrey Herlihy-Mera, Enrique Díaz Martínez, Patricia O'Connor, Jesse Thomas.
[1] Julio W. Álvarez del Vayo, Give Me Combat: The Memoirs of Julio Álvarez del Vayo. Trans. Donald D. Walsh (Boston, 1973), 188.
[2] George Packer, "The Spanish Prisoner," The New Yorker (October 31, 2005), 86.
[3]  José Luis Castillo-Puche, Hemingway in Spain: A Personal Reminiscence of Hemingway's Years in Spain by his Friend. Trans. Helen R. Lane (New York, 1974), 20; Jeffrey Herlihy-Mera, "'He was a Sort of Joke, in Fact': Ernest Hemingway in Spain," The Hemingway Review, 31:2 (2012), 85.
[4] Alex Vernon, Hemingway's Second War: Bearing Witness to the Spanish Civil War (Iowa City, 2011), 27-28.
[5] Ibid., 13.
[6] Sandie Holguín, Creating Spaniards: Culture and Identity in Republican Spain (Madison, 2002), 5
[7] Paul Preston, The Spanish Holocaust: Inquisition and Extermination in Twentieth-Century Spain (New York, 2012), 7.
[8] Vernon, Hemingway's Second War, 6-7.
[9] Holguín, Creating Spaniards, 3.
[10] Stacey Guill, "War: Spanish Civil War," in Ernest Hemingway in Context, eds. Deborah A. Moddelmog and Suzanne Del Gizzo (Cambridge, 2013), 398.
[11] Holguín, Creating Spaniards, 99.
[12] Cited in Michael Reynolds, Hemingway: The 1930s (New York, 1997), 72.
[13] Preston, The Spanish Holocaust, 33.
[14] Cited in Lisa Twomey, "Taboo or Tolerable? Hemingway's For Whom the Bell Tolls in Postwar Spain," The Hemingway Review 30:2 (2011), 60.
[15] Salvador de Madariaga, "The World Weighs a Writer's Influence: Spain," Saturday Review 44 (July 29, 1961), 18.
[16] Ernest Hemingway, Selected Letters, 1917-1961. Ed. Carlos Baker (New York, 1981), 455-56.
[17] William Braasch Watson, "Hemingway's Spanish Civil War Dispatches," The Hemingway Review 7:2 (Spring 1988), 12; Adam Hochschild, Spain in Our Hearts: Americans in the Spanish Civil War, 1936-1939 (New York, 2016), 148-150, 261-262, 300-301.
[18] Hemingway, Selected Letters, 456.
[19] Ibid.
[20] Peter L. Hays, "Hemingway as a Social and Political Writer," The Hemingway Review 34:2 (2015), 116.
[21]  Ernest Hemingway, "The Time Now, The Place Spain," Ken 1:1 (April 7, 1938), 36-37.
[22] Ernest Hemingway, "The Cardinal Picks a Winner," Ken 1:3 (May 5, 1938), 38.
[23] Ernest Hemingway, "A Call for Greatness," Ken 2:1 (July 14, 1938), 23.
[24] Paul Preston, We Saw Spain Die: Foreign Correspondents in the Spanish Civil War (London, 2009), 17.
[25] Peter N. Carroll, From Guernica to Human Rights: Essays on the Spanish Civil War (Kent, Ohio, 2015), 77.
[26] Richard Rhodes, Hell and Good Company: The Spanish Civil War and the World It Made (New York, 2015), 119.
[27] Vernon, Hemingway's Second War, 43-141.
[28] Ernest Hemingway, "Fascism is a Lie," New Masses 23:13 (June 22, 1937), 4. Author's emphasis. See Stephen Kinzer, The Brothers: John Foster Dulles, Allen Dulles, and their Secret World War (New York: 2014).
[29] Gary Edward Holcomb, "Race and Ethnicity: African Americans," in Moddelmog and Del Gizzo, Ernest Hemingway in Context, 309.
[30] Quoted in Carroll, From Guernica to Human Rights, 75. See also Evelyn Scaramella, "Translating the Spanish Civil War: Langston Hughes's Transnational Poetics," The Massachusetts Review 55:2 (2014), 177-88.
[31] See Peter N. Carroll, The Odyssey of the Abraham Lincoln Brigade: Americans in the Spanish Civil War (Stanford, 1994).
[32] Rhodes, Hell and Good Company, 187; Hochschild, Spain in Our Hearts.
[33]  Cited in Carroll, From Guernica to Human Rights, 77-78.
[34] Ernest Hemingway, "On the American Dead in Spain," New Masses 30:8 (Feb. 14, 1938), 3.
[35]  Cited in Carroll, From Guernica to Human Rights, 85.
[36] Miriam B. Mandel, Hemingway's The Dangerous Summer: The Complete Annotations (Lanham, Maryland, 2008), 3.
[37] Ernest Hemingway, The Dangerous Summer (New York, 1985), 142.
[38] Ibid., 119.
[39] Mandel, Hemingway's The Dangerous Summer, 62.
[40] Hemingway, The Dangerous Summer, 123. See also J.A. Rio Carratalá, "Ernest Hemingway en Alicante," Información (June 29, 2006), 9.
[41] Mandel, Hemingway's The Dangerous Summer, xxiii.
[42] Peter Beaumont, "Fresh Claim over Role the FBI Played in Suicide of Ernest Hemingway," The Guardian (July 2, 2011), accessible online.
[43] Mandel, Hemingway's The Dangerous Summer, 62.
[44] Herlihy-Mera, "He was a Sort of Joke," 84.
[45]  Ibid., 96; Castillo-Puche, Hemingway in Spain, 20.
[46] See Simon Schama's documentary "Power of Art: Picasso," accessible at youtube.
[47] Mandel, Hemingway's The Dangerous Summer, 3.
[48] Allen Josephs, "Death in the Afternoon: A Reconsideration," in On Hemingway and Spain: Essays and Reviews, 1979-2013, ed. Allen Josephs (Warwick, R.I, 2014), 77.
[49] Allen Josephs, 'Confessions of an Animal Lover: Clearing Up a Few Things about Hemingway, Spain and the Bulls', in Josephs, On Hemingway and Spain, 406.
[50]  Cited in Douglas Edward LaPrade, Hemingway and Franco (Valencia, Spain, 2007), 28.
[51]  Cited in Vernon, Hemingway's Second War, 28-29. See Herbert Lionel Matthews, Two Wars and More to Come (New York, 1938).
[52] Carroll, From Guernica to Human Rights, 8; Hochschild, Spain in Our Hearts, 252-254.