Mexicans Divided over Support of Republican Spain
Mexico was one of the very few countries to stand by the Second Spanish Republic as it was attacked by fascism—but in practice, not all Mexicans agreed with their government's position during the Spanish Civil War.
Mexico's involvement during and after the Spanish Civil War under President Lázaro Cárdenas proved to be one of the most appreciated generosities towards the Spanish Republic. As the western democracies shunned Republican Spain, Mexico stood as the only country along with the Soviet Union to publicly denounce the British-French policy of non-intervention and support to its fullest ability the Spanish Republic.  Given its limitations, Mexico assembled $2,000,000 in aid and material, including small arms, aircraft, and volunteers. This support provided great comfort for the Republic. Following the war, Mexico accepted thousands of Spanish exiles and refugees and allowed the establishment of the Republican Government in exile in Mexico City.
This essay, "Divisions in Mexican Support of Republican Spain" shows, however, that even as the Mexican government fully backed the Spanish Republic, it did not receive the full approval of its people. Division in opinion ranged throughout the nation's population, press, and political arenas. The Cárdenas government acted without the intention of following the will of the Mexican people, but instead, acted on moral grounds. With continued turmoil between Mexican conservatism and liberalism after the Mexican Revolution, and with a populist President, the right and left sought to use the conflict in Spain as another political statement in their efforts on the home front. The majority of Mexico's economic elite, newspapers, religious community, Spanish community, and college educated class aligned to the right in support of the Nationalist cause. Only a minority of workers, Intellectuals, and peasants, sided with the Republicans. As for the vast majority of the Mexican peasantry and lower classes, they remained misinformed and ignorant on the issue.
Carlos Nava is a 23-year-old Mexican American who graduated from Southern Methodist University in May 2015 with a B.A. in History. His Mexican heritage was a great influence in his decision to write a research paper on Mexico's involvement in the Spanish Civil War.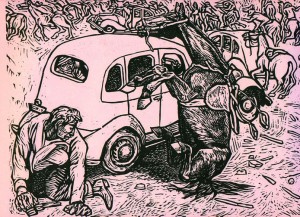 Title: Choferes contra "Camisas Doradas" en el Zocalo de la ciudad de Mexico, 20 de Noviembre de 1935
Artist: Alfredo Zalce 1908-2003
Collection: Taller de Gráfica Popular (Mexico City, Mexico)
Story behind the image: On November 20, 1935 the Mexican fascist group named The Revolutionary Mexicanist Action or "Las Camisas Doradas" demonstrated in Mexico City during the anniversary of The Mexican Revolution. The "Dorados" on horseback clashed with motorized forces of the Communist Party of Mexico during a pitched battle in the Zocalo of central Mexico City.