French Collaboration on Display, 1940-1944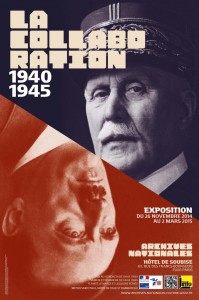 Seventy years after the liberation of Paris from German occupation, the National Archives of Paris opened "La Collaboration, 1940-1945," an exhibition exploring multiple facets of French collaboration with the enemy.
In a thematic rather than a chronological approach, the show includes a great variety of original documents and artifacts, many of which have been out of public view since the end of World War II. Together they paint an effective and nuanced picture of a still controversial episode.
French collaboration with the Nazi regime following the Armistice of 1940 has generally been studied through a political perspective, but this exhibit ventures into military, cultural, and economic dimensions as well. Among the items on display is the well-known poster "Affiche Rouge," depicting  French anti-Semitism, as well as photographs of detainees, lists of deported persons, political memorabilia (such as pins from the many French extreme right-wing parties), Marshal Philippe Pétain's ink blotter and personal stamp, and Jacques Doriot's SS uniform and trunk.
---
While Resistance and collaboration were both significant, they were minority movements.
---
But the exhibit reveals more than artifacts and documents. In a video interview, curators Denis Peschanski and Thomas Fontaine debunk two historical myths, one "pink" and one "gray." The pink myth claims that everyone in France was in the Resistance; the gray, that everyone was a collaborator. The truth is that while Resistance and collaboration were both significant, they were minority movements. The large majority of French public opinion during the German occupation, despite continued Nazi and Vichy propaganda efforts, favored an Allied victory.
The exhibit also features extracts from French feature-length films produced in the postwar period that deal with collaboration.
This somewhat surprising wealth of films contradicts the oft-held view that France long avoided acknowledging its collaborationist past.
The curators evidently designed the exhibition for an educated French audience. Explanations are in French only and there is little discussion of the war of 1939-40. The show ends with a photograph of Philippe Pétain at his postwar trial, and only the briefest of references are made to what happened to the other notorious French collaborators who embraced the Nazi view of Europe.
The exhibit runs until March 2, 2015. For those with a working knowledge of French, a brief glimpse, including an interview with Denis Peschanski, can be seen at www.archives-nationales.culture.gouv.fr.
ALBA Board member Robert S. Coale lives and teaches in Paris. He is writing a book about Spanish Republicans who fought with the French army during World War II.