Human Rights Film Festival stirs debate
Documentary filmmakers almost always aim to denounce the unacceptable. The dozen films featured in ALBA's fourth annual Human Rights Film Festival, Impugning Impunity, brilliantly continue that pattern.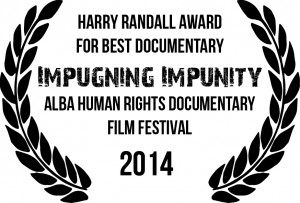 This year's selection covered an extraordinary range of regions and topics. A Quiet Inquisition, by Alessandra Zekka and Holen Sabrina, focuses on patients and physicians currently living in hospitals in Nicaragua, where the law prohibits abortion without any exceptions. The film provides a moving portrait of an inexplicable and incomprehensible situation. For Daniel Ortega's government, twelve and 13-year-old girls with failed at-home abortions and in danger of dying do not constitute reasons for medical intervention, and neither do rape victims or challenging clinical cases. Health professionals are forced to choose: they either obey the law or abide by their ethics.
Another gem is Alfonso Domingo and Jordi Torrent's Invisible Heroes, a dynamic and effective montage of archival materials that tells the story of the black members of the International Brigades during the Spanish Civil War.
The film 1971, the winner of ALBA's first Harry Randall Prize, provides a startling and entertaining portrait of the anti-Vietnam War civilians who managed to break into an FBI office and uncover illegal operations that violated the rights of ordinary U.S. citizens. The movie is based on Betty Medsger's recent book, The Burglary: The Discovery of J. Edgar Hoover's Secret FBI, which was the subject of this year's ALBA/Bill Susman Lecture. (See The Volunteer, September 2014.)
Another film with great emotional impact is Bastards: Outcasts in Morocco, by Deborah Perkin, which exposes the shameful situation of single mothers and their children in Morocco who are denied basic rights. The documentary is splendidly composed, both visually and structurally. The Second Cooler, by Ellin Jimmerson, depicts the harsh circumstances of the "illegal" immigrant entering the United States.
Perhaps the most unexpected and original film among the official selection was Tim Delmastro's Freedom from Choice, which shows how consumers are manipulated into consuming products and services that serve the interests of the State and the economy rather than their own. Full of humor and irony, Freedom from Choice opens the viewer's eyes to the widespread manipulation and imposition behind the illusion of free choice.
Each of the screenings prompted lively discussion among audiences and filmmakers. The festival showed that the political documentary is alive and well—and a powerful tool for change.
Rodolfo Graziano is multimedia artist and documentary film director. This article was translated from Spanish by Lyn Dominguez.
Impugning Impunity: ALBA's Human Rights Film Festival was made possible in part with public funds from the Fund for Creative Communities, supported by New York State Council on the Arts with the support of Governor Andrew Cuomo and the New York State Legislature and administered by Lower Manhattan Cultural Council.