Book Review: Memories of Basque exile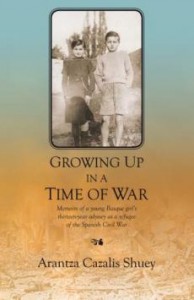 Arantza Cazalis Shuey, Growing Up in a Time of War. Memoirs of a Young Basque girl's thirteen-year Odyssey as a refugee of the Spanish Civil War. Third Place Press, 2011.
In her memoirs of her experiences as a Basque refugee of the Spanish Civil War, Arantza Cazalis Shuey presents the reader with a wrenching and nostalgia-provoking episode of Spanish history: the plight of los niños de la guerra (war children). This is the story of the Gernika generation–some 25,000 Basque children who escaped war-torn Spain in the late 1930s.    
Chronologically divided into nine chapters, Cazalis's saga recounts her journey from Spain to the United States, via France and the Caribbean. The memoir opens with a detailed depiction of her native Ermua, an industrial Basque town which like the neighboring Eibar, was deeply impacted by the armed conflict. Through a description of her family's genealogy, the author offers a vivid portrait of the idiosyncrasies of the Basque people, their language and their traditions.
Life in Ermua changed drastically with Franco's coup. Arantza's world crumbled in 1936 when her region became a stage for resistance against the rebel troops. Within a year, Arantza, now on a French train returning to Spain, had crisscrossed northern Spain and France seeking refuge and mourning the loss of her mother, killed by a bomb in Carranza. Shortly after her arrival in Barcelona, the 9-year-old Arantza lost her older brother Imanol, although she was, by this point, already so traumatized by the war that, "[she does not] remember crying."
When World War II broke out in 1939, Arantza's family was able to obtain visas for Trujillo's Dominican Republic and left Bordeaux aboard the ship La Salle, disembarking on Caribbean soil on December 21, 1939. Arantza portrays the embodiment of "her new culture" (the rich gastronomy, sensual landscape and traditions of the Dominican Republic) as her family moved from Ciudad Trujillo (Santo Domingo) to the rural town Constanza to begin farming, supported by the plot of tillable land that the government granted to refugee families.
The chapters that focus on the life of Basque exiles living under the Trujillo regime represent a fascinating and, to date, still unstudied snapshot of the Republican exile story. This memoir thus presents a rarely explored geographical destination in Basque children's exile as well as the larger cultural, linguistic, and social implications of Basque-Caribbean transculturation.  Once in the rural town Costanza, a mountain region whose institutions reflect the repression of Trujillo's regime, the new family's baserri (Basque word for the traditional farm) becomes a collage of Basque and Caribbean styles of farming, gardening, and urban traditions. While the conventional Basque repertoire of house animals is increased by the addition of Caribbean fauna such as parrots, in the baratz (vegetable garden) the family plants potatoes along with "sweet lemon trees" and other native plants of the island. 
Once established in the village, Arantza returns to school, and her story recounts her coming-of-age sexual experiences and her first friendships with local girls. The town also became a place where Arantza and her family could reconnect with Basque and other Spanish refugees, portrayed in episodes recounting a visit by a Basque priest and her memories of a Spanish family-owned hotel.
At the end of World War II, the family moved again "with the hope of finding a boat that would take us to Mexico." Crossing the Caribbean would not prove easy: the war had frozen all maritime activities. Just as the family was about to lose hope of leaving the island, they managed to fly to Cuba and from there, to travel to their final destination in a fishing boat.
Arantza was 16 years old when she saw Mexico City for the first time. Her memoir closes with her arrival in Idaho to teach a Spanish conversation course in December 1948. Her journey had lasted almost 13 years.
Like Basque-American Mirim Isasi´s memoir in Basque Girl (1940), Cazalis Shuey´s traces the Basque-American diaspora.  Nevertheless, Growing Up in a Time of War is a unique literary piece that acknowledges the Basque influx in a country that, second to Mexico, hosted the greatest number of Basque refugees, and that housed one delegation of the Basque Government-in-exile from 1940.  By departing from the most recurrent destinations (France, Belgium, England and Mexico) portrayed in works dealing with the Gernika generation, Cazalis´s volume reveals a new dimension of the Basque children exile experience waiting to be discovered by readers and researched by scholars.
Originally from the Basque Country, Nagore Sedano is a Ph.D. student in Romance Languages and Literature at the University of Oregon.