Book Review: Hotel Florida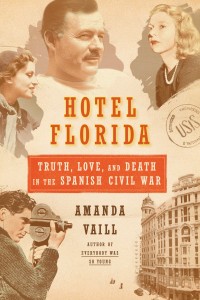 Amanda Vaill. Hotel Florida: Truth, Love, and Death in the Spanish Civil War. New York: Farrar, Straus and Giroux, 2014.
In 1923, French writer and intellectual André Malraux, hoping to offset his recent losses in the stock market, traveled to Cambodia to steal some bas-reliefs from the ancient Khmer temple Banteay Srei. He was eventually caught and spent a year in jail. Years later, Malraux wrote a book about the experiences and the injustices he faced. In 1936 he would become involved in the Spanish Civil War, where he also told a story about his efforts, writing a novel, directing a movie, and making himself famous in many circles.
The history of the Spanish Civil War has quite a few characters and adventurers who at some level, like Malraux, exploited the conflict for their own gain by telling stories. Amanda Vaill's Hotel Florida: Truth, Love, and Death in the Spanish Civil War chronicles the lives of six journalists who could fit this description: Ernest Hemingway, Martha Gellhorn, Robert Capa, Gerda Taro, Arturo Barea, and Ilsa Kulcsar. The title refers to a hotel in Madrid where many intellectuals, writers, and politicians congregated during the conflict.  A carefully researched reconstruction of these six figures based on letters, diaries, biographies, photographs and film, Hotel Florida explores how each individual approached the issue of "truth" and personal integrity during war.
Arturo Barea, Madrid's chief press officer, and Ilsa Kulcsar, his assistant, worked tirelessly and valiantly for the Republic, trying to tell the truth about the war in the conviction that the truth (not propaganda) would ultimately speak to the outside world. They were met with much resistance from the Republican bureaucracy, and towards the end of the war, Ilsa received death threats. Writers Ernest Hemingway and Martha Gellhorn, by far the most entertaining of the characters described in Hotel Florida, fare the worst in terms of the author´s censure.  The man who explained his writing by saying "All you have to do is write one true sentence," apparently also wrote a lot of propaganda in his journalistic pieces about the war, and constantly exaggerated his feats of killing of bears in hunting excursions and dodging bullets in battle. Martha Gellhorn, his blonde mistress, who Hemingway once said he wanted to marry (and later did) because "she´s got the longest, smoothest, straightest legs in the world" went fur shopping on days when there was nothing to do, and wrote in her journal: "Come what may, one washes one's hair, has one's nails tended, sends out the laundry." Amanda Vaill presents photographers Robert Capa (Endre Friedmann) and Gerda Taro (Gerta Pohorylle) as young, energetic, fearless individuals, who managed to leave their past behind and become famous and known through their original up-close photographs of the Spanish Civil War. The book also suggests that perhaps they did not fully comprehend the gravity of what they were doing until the very end.
All of the six felt called to Spain because they longed to be involved in something bigger than themselves, and to have something worthwhile to write about or photograph. Some of them had additional motives of fame, adventure, or escape. One gets a fuller picture of how Spain became a popular international venue for intellectuals and artists to spout and show-off their moral fortitude and bravery as well as their talents, and the book is replete with anecdotal descriptions of these characters and their friends gathering in the cafes and bars until wee hours of the night, drinking, discussing, and eating the last rations of sardines.  Vaill also manages a careful and unique balance between hope and realism. The real heroes presented in this book are not the self-absorbed Hemingways and Malrauxs of the war, but rather the ordinary Spanish people and members of the International Brigades who were fighting selflessly for a better future for their country with no hope of fame. The author manages to convey the idiosyncrasies and complexities of politics and human nature. In this sense, Vaill manages, without idealizing or becoming overly cynical, to create an engaging, inspiring, and poignant narrative about one of the great tragedies of the 20th century.
Katherine Stafford teaches Spanish literature at Lafayette College in Easton PA.