John Hovan (1916-2014): Citizen of Spain and the world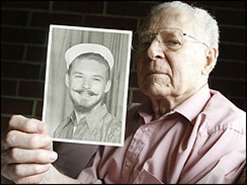 John Hovan, one of the first veterans of the Lincoln Brigade to take advantage of the Spanish law granting citizenship to foreign volunteers of the International Brigades, died in Providence, Rhode Island, on March 27. He was 97.
His death leaves only one known Lincoln veteran alive, Delmer Berg, 98, of northern California.
The son of Czech immigrants, John George Hovan was born in Florida in 1916, graduated from high school in Jacksonville, Florida, and volunteered for service in the Lincoln Brigade in 1937. He served as an auto mechanic in Albacete and as a driver for Brigade headquarters.
During World War II, he served in the U.S. Navy in a CB group in the Pacific theater.
A lifelong labor activist, John remained an organizer in the postwar period. Indeed, during the McCarthy-era red scare, he was summoned to testify before the House Un-American Activities committee about his participation in the Spanish Civil War and as a result he lost his job and his house was firebombed and painted with swastikas.
Having settled his family in Rhode Island, he continued to advocate for social justice, including issues related to elder citizens' medical affairs, even appearing on local TV and before the state legislature. He also received a senior internship in Washington, D.C.

When the Spanish government extended citizenship rights to International Brigaders, John stepped forward in 2009. The Spanish consul in Rhode Island presented John with a certificate of citizenship and advised him that the next time he visited Spain he would not have to wait in the line for foreigners. David Cane, the son of another Lincoln veteran, added that the next time John went to Spain he wouldn't have to walk in over the Pyrenees, as he had in 1937.
He was pre-deceased by his wife of 64 years, Mildred Hovan, and is survived by two daughters and several grandchildren and great-grandchildren.
John resided at Heritage Hills Nursing Home in North Smithfield, RI at the time of his death.