Book Review : A Canadian's revealing memoir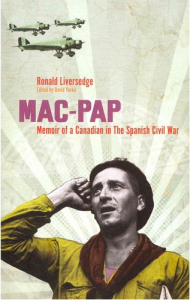 Mac-Pap: Memoirs of a Canadian in The Spanish Civil War. By Ronald Liversedge, edited by David Yorke (Vancouver: New Star Books, 2013), 224 pp.
With the exception of Norman Bethune's introduction of mobile blood-transfusion units, Canada's role in the Spanish Civil War has been largely forgotten by both Canadians and Spanish Civil War historians.  Although the largest number of International Brigade volunteers in proportion to their population hailed from Canada, few scholars have studied the Canadian Mackenzie-Papineau Battalion, often referred to as the Mac-Paps.  However, the recent publication of Ronald Liversedge's Mac-Pap: Memoirs of a Canadian in The Spanish Civil War provides a fascinating and much needed contribution to the slowly growing number of books on Canada's role in the Spanish Civil War.
Born in Bradford, England on 12 April 1899, Ronald Liversedge was forced to leave school at a young age to support his large family.  After enlisting in the British Army after the outbreak of the First World War, he quickly grew disillusioned with the country that seemed to care little for his life.  The war served as a political awakening for Liversedge.  In the summer of 1918, he met a German Prisoner of War, who converted Liversedge to communism in under two hours.  He later wrote "I will never forget that little man; he gave me something to live and fight for" (Mac-Pap 11).  After the war, Liversedge became deeply engaged in the British Communist Party, and, after emigrating to Canada in 1927, became a prominent Canadian communist, even helping to organize the famous 1935 On to Ottawa Trek.
When Liversedge heard about the Spanish Civil War, he knew that he had to go.  In the Spring of 1937, he said his goodbyes and sailed to France.  He vividly describes his struggle to make it to shore after his ship, the Ciudad de Barcelona, was sunk by an Italian submarine. Shaken by this dramatic welcome to the Spanish Civil War, Liversedge made his way to Albacete, where be began to advocate for the creation of a separate Canadian Battalion.  Many Canadians had either joined their American comrades in the Abraham Lincoln and the George Washington Battalions or had been scattered throughout the European brigades.  After a few tense conversations with their American comrades, the Canadians finally earned their own unit. Indeed, this memoir provides an alternative understanding of the war than offered by many American veterans and scholars:
"All attempts to get down to real discussion about the necessity for the formation of a Mac-Pap Battalion [with the Americans], . . . were met by barely concealed scorn, and a studied assumption of the patience of a father trying to explain to an ignorant, fractious child" (Mac-Pap 66).  Later, Liversedge gave up command of the Mac-Paps as "Bob Merriman had been after me for some time for my refusing to eat at the officers' mess.  He charged me, and the Canadians in general, with making a fetish of democratism" (Mac-Pap 78).
Liversedge's memoir traces his actions at Fuentes de Ebro, his time with the Canadian Cadre Service, his service with the 35th Artillery Battalion, and his eventual repatriation to Canada in 1939.  An honest depiction of a prominent member of the International Brigades, this book is a must-read for anyone interested in North American participation in the Spanish Civil War.