ALBA film series impugns impunity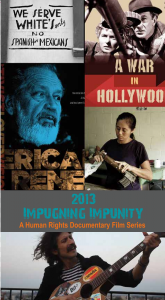 ALBA's third human rights film series, held at Pace University this past November, featured eight compelling documentaries.
Richard Rowley's Dirty Wars (2013) lays bare the dirty little secret of America's War on Terror with the help of investigative reporter Jeremy Scahill; Tatiana Huezo's The Tiniest Place (2012) tells the story of Cinquera, a village literally wiped off the official map during El Salvador's 12-year civil war. Scott Garren's American Renegade: Confessions of a Radical Humanist (2011) is an unflinchingly honest portrait of Abraham Lincoln Brigade veteran Abe Osheroff.  The documentary ISN 310: Djamel Ameziane's Decade in Guantanamo (2013), by Mark Casebow, tell the story of an Algerian citizen who has been held in Guantanamo Bay without charge since 2002. A Class Apart (2009), by Carlos Sandoval and Peter Miller returns to  the landmark 1954 legal case Hernandez v. Texas, in order to interweave the stories of its central characters with a broader story of the civil rights movement while also bringing to life the heroic post-World War II struggle of Mexican Americans fighting to dismantle the discrimination targeted against them.  Andrew Williamson's The Land of Eb (2013) deals with the legacy of US nuclear testing on the Marhall Islands. Oriol Porta's  A War In Hollywood: Hollywood vs. Franco (2008) looks at the presence of the Spanish Civil War in Hollywood through the life of ALB veteran and Hollywood Ten member Alvah Bessie. Finally, Antonino Pasquale d'Ambrosio's Let Fury Have the Hour chronicles how a generation of artists, thinkers, and activists used their creativity as a response to the reactionary politics that many believe defined culture in the 1980s.  The filmmaker, who was present at the festival, dedicated the screening to the Lincoln Brigade and especially to veteran Jack P. Bjoze.
At its end-of-year gathering in December, ALBA screened a taping of the the passionate musical  Goodbye Barcelona by Judith Johnson with music and lyrics by K. S. Lewkowicz.