Book Review: Poverty, war and football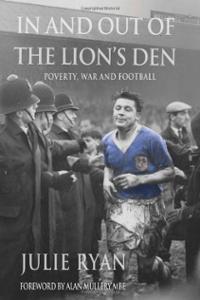 This article  appeared in the 35th issue of the newsletter of the International Brigade Memorial Trust and is reprinted here with the IBMT's permission.
Written by his daughter, this is the story of John Shepherd, who played football for Millwall, Brighton & Hove Albion and Gillingham. His was a life also touched by the Spanish Civil War.
The aspiring young footballer from Notting Hill met and fell in love with Esther González at the 7th Feathers Youth Club in North Kensington. And in 1955 he married into a family who had been refugees from the Spanish Civil War.
Esther's father, José, fought in the Spanish Republic's army, eventually crossing the border into France as Catalonia fell to Franco's fascist forces in February 1939. After spending time in French concentration camps and forced work groups, he was eventually deported to Algeria,  where he was later able to join the British Pioneer Corps and then settled as a refuge in London.
This book is both an evocation of football in the 1950s – when the players would travel to the ground on the same trains and buses as the fans – as well as portrayal of two families, in England and in Spain, afflicted by but eventually overcoming poverty and war.
John and Esther honeymooned in Spain. In 1959 Esther's mother Marcelina and younger sister Rosita visited José's parents in Villajoyosa, near Alicante. José never returned to Spain until after Franco's death, but was "disillusioned and confused". As Julie Ryan puts it: "Franco's death had come too late", something that was true for many Republicans who suffered decades of exile.
Ryan is clearly proud of the family's Spanish heritage and the impact of the Spanish Civil War on it. One of the last photos in this finely written family history is one of her and son Nathan in 2011 at the memorial at Argelès-sur-mer, the notorious camp in southern France where defeated Spaniards were interned in sub-human conditions following the fall of the Republic.