Undocumented and Unafraid: DREAMers tapped for Human Rights Award
United We Dream, the national network of youth-led immigrant activist organizations that fight for the rights of millions of undocumented immigrants in the United States, has been selected as winner of the 2013 ALBA/Puffin Award for Human Rights Activism. The United We Dream Network (UWD) will receive the award at ALBA's annual event in New York City on May 5. (Tickets | Invitation | Press Release English / Spanish)
The organization strives to achieve equal access to higher education for all people, regardless of immigration status; to address the inequities and obstacles faced by immigrant youth and their families; and to develop a sustainable, grassroots movement, led by immigrant youth, the children of immigrants, and their allies. See an 8-minute New York Times video on their work here (3-min. version here).
United We Dream (Facebook | Twitter | YouTube) builds on years of activism by a great number of organizations. The network was created in 2008 as a result of efforts among key national advocacy groups, led by National Immigration Law Center (NILC), with the goal of forging a nation-wide coalition to promote equal access to educational opportunities for young immigrants. NILC has been instrumental in calling the attention of policymakers to the circumstances and inequities faced by undocumented students, which led to the introduction of the Development Relief and Education for Alien Minors (DREAM) Act, first proposed in 2001. A decade later, the DREAM was finally brought up for a vote in December 2010. After failing to pass the Senate by five votes, the movement focused its efforts on the executive branch and pushed President Obama to stop deporting undocumented youth by providing them with administrative relief. It was largely the efforts of UWD activists that persuaded President Obama to announce Deferred Action for Childhood Arrivals (DACA) in 2011–a program that would provide relief from deportation and a 2-year work permit to undocumented immigrant youth who had arrived in the United States as children and met a set criteria.
"United We Dream has provided a channel for young immigrants to become politically active and to fight not just for their own rights, but for social justice more generally," said the historian Peter N. Carroll, member of the jury. "Their commitment, energy, and solidarity reflect the kind of activism embodied by the volunteers of the Abraham Lincoln Brigade who risked their lives to stop fascism in its tracks 75 years ago—many of whom were recent or non-legal immigrants themselves."
"The DREAMers are undocumented but unafraid," said ALBA Chair Sebastiaan Faber. "Over the past few years UWD has inspired all of us by showing that individual bravery and collective effort can make a real political difference."
"Coming out publicly as an undocumented immigrant in America today takes tremendous courage," said Michael Ratner, President Emeritus of the Center for Constitutional Rights, who nominated UWD for the ALBA/Puffin Award. "The DREAMers' stories are incredibly moving. They demonstrate that taking risks and putting your body on the line is a necessity in the fight for a moral and just society."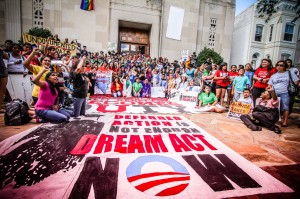 The three-person award committee selected the awardee from among more than thirty nominations. The $100,000 ALBA/Puffin Award for Human Rights Activism, one of the largest human rights awards in the world, is given jointly by ALBA and the Puffin Foundation, which provides an endowed fund exclusively for this annual honor. "The award is designed," said Puffin Foundation President Perry Rosenstein, "to give public recognition, support, and encouragement to individuals or groups whose work has an exceptionally positive impact on the advancement and/or defense of human rights.  It is intended to help educate students and the general public about the importance of defending human rights against arbitrary powers that violate democratic principles."
At the United We Dream National Congress in Kansas City in early December, UWD adopted a Platform for Change that includes, among other goals, fair treatment for DREAMers and their families and communities, including a roadmap to citizenship for 11 million Americans without papers and an end to senseless deportations and abuses; the elimination of barriers to higher education for immigrant youth by extending state and federal financial aid opportunities, as well as in-state tuition rates to DREAMers available to their peers; access to health care and safe, fair working conditions and equal protection under the law for all; and intensifying efforts to become more inclusive of non-Latinos, LGBTQ communities, different-bodied people, people of faith, and other groups.
The ALBA/Puffin Award is part of a program connecting the inspiring legacy of the International Brigades —the 35,000 volunteers who helped fight fascism during the Spanish Civil War—to international activist causes of today.  Spanish Judge Baltasar Garzón received the first ALBA/Puffin Award in 2011. Last year, the prize honored Kate Doyle and Freddy Peccerelli, who work on violations of human rights in Guatemala.