Sylvia H. Thompson (1924-2012)
Sylvia H. Thompson, who spent her life fighting for the poor and oppressed and championing the legacy of the veterans of the Abraham Lincoln Brigade, died of cancer in December in New York City. A stalwart supporter of both VALB and ALBA, she volunteered countless hours, year after year, organizing VALB's annual reunions in New York.
Thompson was born Sylvia Bernard in 1924 in San Antonio, Texas. As a young woman, she joined the Communist Party and helped launch the Civil Rights Congress in Texas. In 1947, she traveled to North Carolina where she spent more than a year organizing electrical workers to join the union. It was there that she met her first husband, Sam Hall, a district organizer for the Party. The young couple moved to Birmingham, Alabama where, as open communists, they endured constant surveillance, threats and break-ins.
After Hall's death, Sylvia moved to New York City where she worked for the state Party office and met her second husband, Robert G. Thompson in 1957. Bob Thompson had been a battalion commander with the Lincoln Brigade in Spain, and went on to receive one of the highest medals for valor–the Distinguished Service Cross–for his heroic actions in the Pacific Theater in World War II.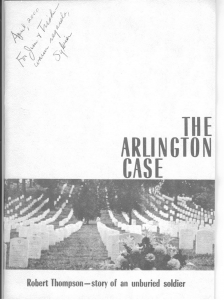 When he died in 1965, Sylvia sought and received permission from the Army to have his ashes interred in Arlington National Cemetery. However, when publicity about Bob's previous imprisonment as a Smith Act defendant surfaced, the Army reversed itself and denied the widow's request. Sylvia took the matter to court as well as to the American people, coordinating a campaign to expose the Army's shameful actions. Her efforts included the publication of a pamphlet, The Arlington Case (pictured here). In 1968, a federal appeals court ordered the Army to inter Bob Thompson's ashes.
In subsequent years, Sylvia became a mainstay in the VALB office, working with veterans and organizing their annual reunions.