Mystery sketch: Help wanted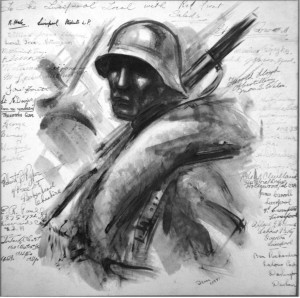 This article appeared in the 34th issue of the newsletter of the International Brigade Memorial Trust and is reprinted here with the IBMT's permission.
Can anyone shed any light on the origins of this sketch? It belonged to Arthur West, an ac­tivist in the Aid Spain movement in Notting­ham and a prominent local trade unionist, who died in 1979, aged 67. The portrait is ded­icated at the top to "the Liverpool Local with Red Front Saluds, Jack Coward." Other signa­tures (not all are legible) include R Hale (Liver­pool), William James (Liverpool), Lionel Poxon (Nottingham), George Barney (Bootle), ER Paul (Riverside, California), Harold Lloyd (Abertillery), Roland Cleveland (Hollywood, California), James Carroll (Liverpool), V Cromp­ton (Liverpool) Alfred J Holmes (Liverpool) and Ben Richardson (Darlington).
Arthur West was a member of the Commu­nist Party until 1961, after which he joined the Labour Party. He was an aero engine fitter and worked for most of his life at the Rolls Royce plant in Hucknall, where he was an AUEW en­gineering workers' union shop steward and the full-­time union convener for many years. He also served as the President of the Notting­ham Trades Council and stood for election to Parliament and the local council as a Commu­nist and Labour candidate respectively.
Anyone with information about the sketch or about Arthur West's involvement in Aid Spain campaigning should contact IBMT Secretary Jim Jump, secretary@ international­brigades.org.uk; tel: 020­7228 6504.