Combing the Present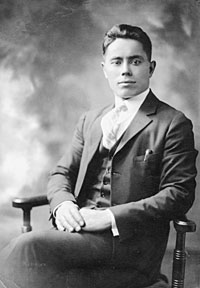 Emilio Silva Faba was born in the town of Pereje (León) in 1892. In 1915 he emigrated to Argentina, where he lived in Ezpeleta, in the province of Buenos Aires. There he worked in a soda factory. Five years later he re-emigrated to the United States. He came through Ellis Island on August 28 1920, and moved into the house of his brother-in-law, Manuel Núñez, who lived in Bridgeport, Connecticut. There was a small enclave of Spaniards in Bridgeport, working in the city's metal industries. Thanks to family letters, we know that Emilio Silva Faba was planning on opening a store of Spanish food and merchandise in New York; to set things up, he returned to his native region of El Bierzo, to sell some land he had inherited from his parents, and to gather the money and the contacts he would need to start up his new business.
He had been gone from his town for 10 years, and upon returning, he met and fell in love with Modesta Santín. They were married on January 10, 1926. He decided to stay in his hometown, and opened a general store there –curiously called an "almacén de coloniales in Spanish. In the store, called "La Preferida," he sold everything from esparto grass to lottery tickets, and all kinds of food and household necessities.
In the early 1930s, Silva Faba became affiliated with Manuel Azaña's political party, Acción Republicana. He was an assiduous reader of the newspaper La Libertad. There is a notarized document from February of 1936, signed by the then-president of the Provincial Government of León, which lists Emilio Silva Faba as an auditor for Izquierda Republicana.
When the supporters of the Fascist military uprising of July 18, 1936 overthrow the authorities of Villafranca del Bierzo, Silva Faba is subject to constant extorsions and is forced to hand over to the Falange the goods and cash in his store. On October 16, 1936, he is arrested at the Town Hall, and that very night he is taken on a truck with 14 other men to a place outside Prioranza del Bierzo, shot twice in the head, and thrown into a ditch.
On October 21, 2000, the mass grave containing his remains, and those of 12 other men, was exhumed. Three years later, DNA tests definitively identified the remains as belonging to Emilio Silva Faba; it was the first time a person who had been disappeared by Francoist repression had been thus identified. Today his remains are finally together with those of his wife, Modesta Santín, with whom he had six children.
In the ditch from which he was exhumed, a comb was found, which bore the inscription: "Hercules Kamm, Hamburgo-New York, 1935."
Original post here.