Immigration, Internationalism & Social Justice: Join ALBA on May 5 in NYC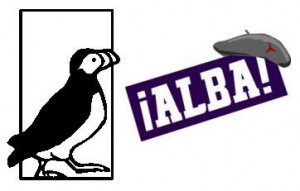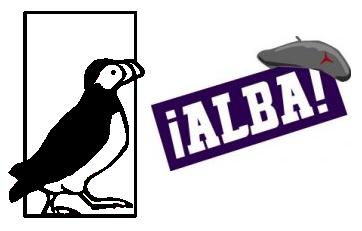 Harry Belafonte, Pete Seeger, Richard Masur, and Oliver Stone join ALBA in inviting you to a celebration of the third ALBA/Puffin Award for Human Rights Activism, featuring United We Dream and music by Barbez and Bernardo Palombo. (Tickets | Invitation | Press Release English / Spanish)
Sunday, May 5, 2013 – Michael Schimmel Center for the Arts, Pace University (3 Spruce Street, New York, NY 10038).
Pre-event Benefit Program,  1:00 – 3:00pm
"The Politics of Immigration": A round-table discussion.
Panelists: Cristina Jiménez, Managing Director, UWD; Natalia Aristizábal, youth organizer & UWD board member; Kevin Kang, founding UWD board member; Prof. Michael Wishnie, William O. Douglas Clinical Professor, Yale Law School; and NY Senator Gustavo Rivera.
Moderator: Amy Goodman, host and executive producer of Democracy Now!
A light lunch will be served.
Honorary Committee: Harry Belafonte, Richard Masur, Pete Seeger & Oliver Stone.
Benefit tickets: $150 (Includes pre-event, lunch, and priority sitting at the Annual Celebration). Purchase tickets here.
2013 Annual Celebration, 3:30 – 5:30pm
Featuring the presentation of the third ALBA/Puffin Award for Human Rights Activism to United We Dream, with music by Barbez and Bernardo Palombo.
Reception to follow
Special Guests: Perry Rosenstein, President of the Puffin Foundation; Kate Doyle, recipient of the 2012 ALBA/Puffin Award for Human Rights Activism
Host Committee: Dan Czitrom,  Kevin Dyer, Sebastiaan Faber, Jeanne Houck, Jo Labanyi, Julia Newman, Ellyn Polshek, Michael Ratner, Fredda Weiss
Tickets may be purchased here, or by sending a check payable to ALBA to 799 Broadway, Suite 341, NYC, NY 10003; Tel. +1 212.674.5398; info@alba-valb.org. If you are unable to attend, please consider making a tax deductible contribution to ALBA.
ALBA
Teaching History – Promoting Activism – Defending Human Rights
Sponsored by the Puffin Foundation, the Department of Political Science at Pace University and the Center for Constitutional Rights.