Sam Levinger book published in Spanish translation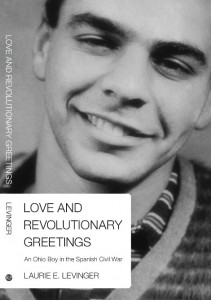 Laurie Levinger writes:
It is a great pleasure and honor to have been invited by AABI to give a reading from my book about my uncle Sam Levinger, Love and Revolutionary Greetings: An Ohio Boy in the Spanish Civil War (click here for the review in the Volunteer). Justin Byrne, Agustin Lozano (translator) and myself will present on Thursday February 14, 2013 at 6:00 p.m. at the International Institute in Madrid. There will be additional readings at the Jarama battlefield on February 16 and  in Fuendetodos on February 18.
Sam Levinger was 19 when he went to Spain in January 1937. He died in September 1937 from wounds suffered during the Battle of Belchite.