Dr. Josep Maria Massons (1913-2012)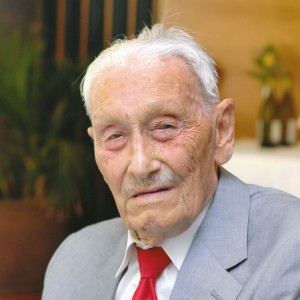 (Versión en castellano.) Dr. Josep Maria Massons Esplugas, former head of the surgical team for the International Brigades, passed away in Barcelona on November 10, 2012. Born in Valls (Tarragona, Catalonia) on January 18, 1913, he received his medical degree from the University of Barcelona in 1934 and went on to earn a surgical position at the Clinical Hospital in the same city. After the outbreak of the Spanish Civil War he joined a military hospital in the Tallers Street in Barcelona with the rank of second lieutenant. Eight months later, in March 1937, he was appointed  chief of the surgical team of the International Brigades. Given his perfect command of German and French, he was assigned to the Thirteenth International Brigade, and worked in several rearguard hospitals until he was assigned to the hospital at Benicàssim (Castelló). Not long after his arrival there he married Maria de los Ángeles Morros, who would die a year later in an accident. In April 1938, when the Benicàssim hospital was removed from the IB command, Massons stayed behind to tend to the patients who were not evacuated, both out of a sense of moral duty and following the guidelines of the Geneva Convention. He was assigned to the Maneuver Army, which, as he later described it, "was like a fire brigade: where there was a fire, there we went."
After the war, Massons was spared professional reprisals thanks to the intervention of his friend Joaquim Vola. In 1942 he married the New-York born Leocàdia Rabassa Raab, with whom he had six children: Maria Teresa (1943), Joan (1944), Cristina: (1945), Elisabet (1948), Mireia (1950), and Estrella (1953-2010). He worked as a doctor in the Vall d'Hebrón Hospital in Barcelona, Professor of Pharmacology at the Nursing School at the same hospital, and Assistant Professor of Pharmacology at the University of Barcelona Medical School until his retirement in the 1980s.
Dr. Massons was the inventor of isoplasma, the use of calf plasma for human blood transfusions, and served as director of Drovisa Laboratories, a branch of Vismara Terapeutici. He authored several books, most importantly the four-volume History of Spanish Military Health Services (1994), and a great number of articles. He was decorated with the Cross of Sant Jordi (2008), the Medal of Honor of the International Brigades (2011) and the Naval Merit Cross (2012). He participated in several IB conferences, including those celebrated in Lausanne (1997), Salamanca (2006), Albacete (2008), and Barcelona (2011).
I first met Dr. Massons in Lausanne. We became friends, and I had the privilege of sharing in some of his wisdom and humanity. I asked him once how the brigadistas were as patients. He jokingly recalled that he had three classes of "clients": the aristocracy, the bourgeoisie, and the proletariat. The English-speakers, particularly the Americans, generally belonged to the first group. They complained about everything, from the food to the nurses, even about the sheets. The French, Germans, and Central Europeans were the bourgeoisie: they understood that being in a war meant you could not expect anything exquisite, so they only asked for what they knew was possible. The proletarians, finally, were the Slavs and other East Europeans, who bore pain and death stoically and almost never complained about anything.
Magí Crusells earned his Ph.D from the University of Barcelona with a dissertation on the representation of the International Brigades in film (Las Brigadas Internacionales en la pantalla, 2001) and serves as associate director of the Centre d'Investigacions Film-Història at the same university.