A Spanish Schindler in Budapest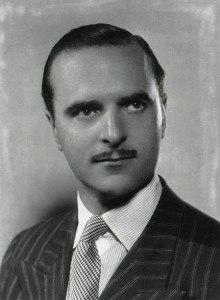 Francisco Franco declared during World War II that Spaniards would maintain a neutral position toward Germany, but his dictatorship actively supported the Nazi regime in a variety of ways. Spain's support of wartime Germany included the exportation of tungsten (Wolfram), a hard metal used by the Nazi military to harden artillery shells; the sale of food, even though Spain suffered a famine after the Spanish Civil War; and, on the battlefield, sending a reinforcement of 48,000 soldiers of the Blue Division (La División Azul) to fight the Soviets. For the most part, this Spanish-German relationship has not been incorporated into Spanish public memory of World War II and the Holocaust. Nor is another memory of the consequences of Franco's alliance with Hilter, the approximately 10,000 Spanish Republican exiles who died in Nazi concentration camps.
Not every aspect of Spain's participation in the war proved tragic. One remarkable and little-told episode of Spanish aid to European Jewry is that of the Franco regime's foreign minister stationed in Hungary, Ángel Sanz Briz who managed to save 5,000 Hungarian Jews in his capacity as chargé d'affaires of the Legation of Hungary in Budapest.
Sanz Briz, known as "the Spanish Schindler," was born on September 28, 1910 in Saragossa to a family of merchants. He studied law in Madrid and later obtained a degree in Diplomacy, graduating the same year the Civil War started. His support for King Alphonse XIII and his conservative ideas motivated him to enroll with Franco's rebels during the war in Ávila. Once it ended, he was assigned to the Spanish Legation in Egypt, and later to Budapest, where he arrived in 1942.
Hungary joined the Axis powers in 1940 under German pressure, after having absorbed Fascist ideas during the previous decade, but it was not until March 1944 that the country was besieged by its neighbor. From the first day, Jews in Budapest suffered various forms of maltreatment and humiliation from Germans and Hungarians, especially by the Arrow Cross Party led by Ferenc Szálasi. The murder of the Hungarian Jews increased when Heinrich Himmler commanded Adolf Eichmann and an Einsatzgruppen to carry out the "Final Solution," meaning the segregation of Jews in ghettos, transportation to concentration/death camps, and extermination. In the city, books written by Jews or about Jewish men and women were burned by Nazi and Arrow Cross Party soldiers. In this desperate situation, a Spanish Jewish community in Tétouan asked for the protection and transfer of 500 Jewish children in Budapest and, later, the protection of 700 adults. Unfortunately they were not allowed to leave the country, but remained under the protection of the Red Cross.
Ángel Sanz Briz, outraged by horrors he witnessed and disenchanted by the non-responsiveness of his own government, calculated how he might save members of the Jewish community in Budapest. There was word from Madrid only once, by then Secretary of Foreign Policy, José Félix de Lequerica, who urged Sanz Briz to save "as many as he could." The diplomat decided to carry out his own salvation plan without the knowledge or approval of the Spanish and Hungarian governments. Although Sanz Briz's actions were carried out clandestinely, he was not necessarily taking an illegal course of action. The Spanish Constitution included a decree signed by General Primo de Rivera on December 20, 1924 that allowed all Spanish Jews in Europe to apply for Spanish citizenship. Thus Sanz Briz found a way to grant Spanish citizenship to Sephardic Jews in Greece, Hungary, Bulgaria, and Romania.
Many Ashkenazi Jews also managed to receive Spanish citizenship, as did some non-Jews. Sanz Briz appears to have saved thousands of Askenazi Jews by placing them in safe houses and teaching them basic Spanish so they could pretend to be Sephardim. As promising as it sounded, the decree was only enforced for six years and just 200,000 visas were processed. Citizenship was not meant for political asylum, but extended the rights of Spanish citizenship and the protection of Spain to citizens abroad. Sanz Briz utilized this decree to its fullest extent.
The specific modus operandi was as follows: from the Legation, he issued visas and protection letters to all Jews who claimed to have any sort of relationship with Spain. But Sephardic Jews numbered only about 500 in Budapest. Sanz Briz was determined to save more. The Jewish population lived in the walled ghettos established by the Nazis in the outskirts of the city. In a documentary aired in Spain in December 2008, the journalist Fernando "Gonzo" González visited the locations of the ghettos where the Nazis confined 70,000 Hungarian Jews. The documentary underscores the contrast between the terrible conditions in the ghettos and the more centrally located buildings to which Sanz Briz moved all Jews under Spanish protection in 1944. The ghettos and protected buildings are also described in detail in a recent television docudrama "El ángel de Budapest" (2011). In this film, we see how Sephardic Jews spread the word about Sanz Briz's strategy to save both Sephardic and Ashkenazi Jews. Before long, many Jews seeking potentially life-saving Spanish visas took the long, risky walk from their ghettos to downtown Budapest, specifically to Eötvös street, where the Legation was located.
The plan ran into trouble when Nazi and Hungarian soldiers began inspecting the visas, prompting Sanz Briz to turn individual visas into family visas and added letter sequences (1A, 1B, 1C, etc.) to increase the number of people protected. This way, if two members of the same family were inspected the same day, the illegality of the document could pass unnoticed. "The 200 units that had been granted to me I turned them into 200 families; and the 200 families multiplied indefinitely due to the simple procedure of not issuing a document or passport with a number higher than 200," Sanz Briz would explain years later in the book Spain and the Jews by Federico Ysart. Sanz Briz's ingenuity meant that only minority of the approximately 5,200 Jews that he helped save were of Spanish origin.
By the autumn of 1944 the deportations and the mistreatment of Jews greatly intensified. At this stage, Sanz Briz made use of his own resources to rent entire buildings a short distance from the Spanish Legation to provide shelter and food to every Jew who could be granted a visa or letter of protection. Meanwhile, the Red Army advanced from the east, already at the gates of Budapest by December. At this point, Sanz Briz received orders from Madrid to move to Austria. On December 20, Sanz Briz left the Legation in Budapest almost in secret, bidding farewell only to his closest employees. The Jews he had protected all this time were not abandoned. Giorgio Perlasca, an Italian fascist who volunteered to fight for Franco during the Spanish Civil War, where he had met Sanz Briz, was named Spanish consul and left in charge of the protection of the 5,000 Jews Sanz Briz had sheltered. After the Spanish Civil War, Perlasca, repulsed by anti-Semitism, abandoned his faith in Fascism. In the end, Madrid silenced Sanz Briz and his story in order to avoid drawing attention to the Franco regime's inaction in the face of the destruction of European Jewry. The historical deception of Sanz Briz's role thus created a distorted version of the sheltering of Hungarian Jews which has been wrongly attributed to Giorgio Perlasca alone.
In the 30 years after the war, Ángel Sanz Briz worked in other destinations around the world, never mentioning a word about his heroic actions in Budapest, not even to his family. He was stationed in San Francisco, Washington D.C., Lima, Guatemala and Vatican City where he died on June 11, 1980. Eleven years later, Yad Vashem recognized him as "Righteous among Nations" for his unwavering efforts to save the life of innocent men and women. Although relatively unknown in Spain today, his work has recently drawn the attention of filmmakers, historians and novelists. The story has been depicted in a historic novel by the writer and journalist Diego Carcedo, Un español frente al Holocausto. Así salvó Ángel Sanz Briz a 5000 judíos (2000 Madrid: Ediciones Temas de Hoy). Sanz Briz is now the subject of both a documentary as well as an historical film for television: the aforementioned documentary by Fernando González titled Ángel Sanz Briz: the Spanish Schindler aired on Antena 3 TV in December 2008 –available at full length on Youtube–and the movie by José Manuel Lorenzo, El ángel de Budapest (2011) aired on La Primera de Televisión Española in December 2011. Hopefully this new popular attention to an intrepid Spanish diplomat will arouse interest in Spain and elsewhere about the complexities of Spanish diplomacy during the Holocaust.
Macarena Tejada-López has a Master's degree in Women's Studies from the University of Huelva and a Master's in Romance Language from the University of Oregon. She currently lives in Huelva, Spain, teaching English to unemployed immigrants.