Eric Hobsbawm (1917-2012)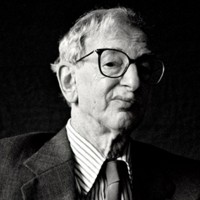 Eric Hobsbawm, the Marxist historian who was born with the Russian Revolution and became a Communist in Nazi Germany, has died, age 95. Read his obituary in the Guardian, and an appreciation by Tristram Hunt. Hobsbawm, an antifascist if there ever was one, belonged to a generation of intellectuals deeply marked by the Spanish Civil War, and he was friendly with prominent leaders of the exiled Spanish Republic. Although he didn't travel to Franco's Spain until 1951, his contact with Spain and Italy inspired his first book as an historian, Primitive Rebels. As he recounts in his memoirs, Interesting Times, his one day as an accidental  tourist in wartime Republican Spain did not end well:
The young anarchist frontier-guard who had turned me back at my first crossing-point came off duty that evening, saw me eating and chatting on the plaza, and immediately reported me to his commissar. I was interrogated, politely enough but firmly, by an unsmiling man in something like military gear. I am sure that he did now know what to make of my presence there–I did not know what to make of it myself–but clearly, the power of the workers could not be treated so lightly, even if the young Englishman who crossed the frontier not only irregularly, but in flat defiance of the decision to keep him out, had shown no signs of wanting to be a danger to the revolution. To be grilled by trigger-happy amateurs on the lookout for counter-revolutionaries is never relaxing.
Read the NY Times obituary here.