Why Not Teach the Spanish Civil War?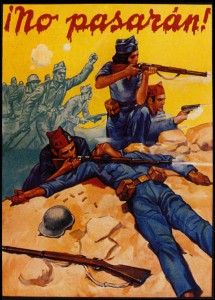 Students won't learn unless they are engaged — we have known this for a long time. The challenge is to get them engaged. As a high school Spanish teacher, it's a problem I face every day. In my quest to cultivate in my students the passion I have for the language and cultures of the Spanish-speaking world, I have found that few topics work as well as the Spanish Civil War. When taught properly, the topic allows students not only to learn about a major historical event but to think, write, and talk about political, moral, and cultural questions that are as relevant today as they were 75 years ago.
I have now participated twice in ALBA's High School Teachers' Institute on Ohio and the Spanish Civil War, co-sponsored by the Ohio Humanities Council and the Puffin Foundation. After trying to teach the war on my own, I quickly found I could answer very few of my students' many questions. In the summer of 2010 I traveled to Oberlin College with a desire to learn everything there was to know so I could clear up my students' doubts. Oh, how smart I would be! And, oh, how wrong I was! It didn't take long for me to realize that the Spanish Civil War begs a multitude of questions that rarely lend themselves to easy answers.
The ALBA institute frames the Spanish Civil War, among other things, as a story-telling problem. The war is comprised of a long series of historical events whose narrative can be told in many different ways. But every one of these versions necessarily involves editorial choice. Looking at photographs, documentaries, newsreels, interviews, letters, opinion pieces, literature, and other archival and historical material, the institute participants practice deciphering the ways that history is imposed on events. They then craft lessons in which their own students will be asked to engage with the same issues. Of course, the institute also addresses ways to provide students with the basic information they needed to begin fitting what they see and read into some kind of sociohistorical framework.
Before my participation in the institute, my students regularly asked me about facts, names, terms and dates. After I re-tooled my instruction, their questions gave rise to lively, full-class debates about questions of defining and establishing justice and making peace with the past for the benefit of the future. My students had attained a working knowledge of facts, names, terms and dates — and they used Spanish vocabulary to do so — but they also wrestled with complex ethical and moral questions. The Spanish Civil War had grabbed my students' attention because they could understand that it was an event in which a great deal was at stake: life, death, liberty, stability. Now, however; I had their attention and their curiosity to dig deeper. I also had materials that helped to tie a war in Spain 75 years ago to the lives of those who lived in surrounding Ohio cities; and to show the global reach of the conflict and its connections to other 20th century events, most notably World War II.
We know from empirical research and our own experience that a sense of relevance is key to student engagement. I have observed that, when studying the Spanish Civil War, students begin to see Spanish — the entire discipline — as something of profound relevance to their lives. I believe that we must make the effort to bring authenticity to our lessons at all academic levels. We can do this by introducing our students to some of the fundamentals of Spanish history, including the Spanish Civil War, and choosing more authentic communicative contexts that reinforce principal details about that history. This will invite discussion and prepare students for more serious study at an earlier point along their educational journey. Instead of, as an example, a fictional account of a grandparent's childhood as the basis for a lesson on the imperfect tense in Spanish II, why not use historical information from the Lincoln Brigade Archives to discuss the actual experience of a veteran? Why not make a family tree in introductory Spanish of some real Spaniards who fought in the war and who might be the focus of more study in later Spanish courses? Why not have advanced students read modern novel fragments related to the war and present a family tree of its principal players to younger students?
These lessons will take no more class time than other textbook lessons they might replace, but they have the advantage of engaging students and fostering a love of something that we who teach them happen to love as well. We love the cultures of the Spanish-speaking world because of our real experiences with those cultures. It is our job to give our students that experience in the classroom to the best of our ability.
Using the Spanish Civil War gives students an essential added benefit. Because it raises themes of ambiguity, deception, conflict, and discord, the Spanish Civil War challenges the imagination and interest of  students in a chaotic teenage world. The topic also steers classroom discussions towards moral, ethical and historical questions that lack easy answers — questions that are students' favorites, because they put them on an equal footing with their teacher. We as teachers may know more and be stronger thinkers, but it is our job to empower our students to raise issues we ourselves may not have seen, perspectives we may have missed and judgments that make us re-evaluate our own positions. Along the way, the students are inspired to learn the same vocabulary, writing and reading skills they need to learn, with less coaxing and greater rewards. And all this can be accomplished with ALBA as a powerful ally.
Sean di Renzo teaches Spanish and chairs the Foreign Language Department at North Olmsted High School, near Cleveland, Ohio.