From Crisis to Cooperatives: Lessons from Argentina's Cartoneros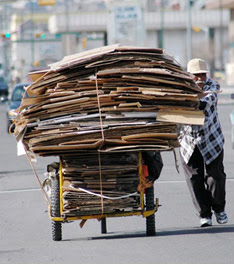 An audio reportage courtesy of Free Speech Radio (listen here):
Over the last few years, Europe has experienced a severe financial crisis, with countries like Greece and Spain facing skyrocketing debt and unemployment. More than a decade ago, a similar situation was unfolding in Argentina. In 2001, the country suffered a debilitating economic crisis and, as a result, defaulted on its foreign debt and stopped pegging the Argentine peso to the U.S. dollar.  When the peso to dollar conversion jumped suddenly to three to one, many Argentines lost two-thirds of their savings overnight.
Banks closed.  Companies went out of business.  And fully one-quarter of the population was left without work.  Tens of thousands of those people, in desperation, started to make their living from garbage.  Working as "cartoneros," which means "cardboard people" they sorted through trash to find recyclable materials to sell.  Thus was born Buenos Aires' informal recycling system, which still exists today.
Eilís O'Neill has more on how the cartoneros, who originally struggled to exist on what they could make on their own, eventually organized into cooperatives in order to help each other and to demand that the government support their efforts.
This documentary was produced by Eilís O'Neill  in Buenos Aires. Documentary editor is Shannon Young. Technical production by Jeannine Etter. La Plataforma provided music for this documentary. Listen to the reportage here.