Democracy Now! covers OWS anniversary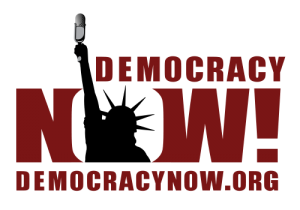 Check in with Democracy Now! for the latest coverage of the one-year anniversary of Occupy Wall Street:
Occupy Wall Street protesters are converging in the Financial District in Manhattan to mark the first anniversary of the movement's beginning. Similar protests are taking place in dozens of cities today. On Sept. 17, 2011, thousands of people answered the call originally put out by the Canadian-based magazine Adbusters to occupy Wall Street. Protesters slept in Zuccotti Park for nearly two months before the New York City police raided the encampment. We look back at some ofDemocracy Now!'s earliest coverage of the movement. We interview Rage Against the Machine guitarist Tom Morello at Sunday's anniversary concert in New York City's Foley Square, and get a live update on the action unfolding today in the streets with Citizen Radio's Allison Kilkenny.
View or listen here.