A New, Fuller Perspective on George Orwell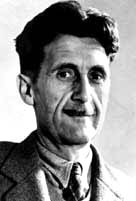 In a glowing review in the New York Times, writer Dwight Garner praises the newly published 'Diaries,' by George Orwell for exposing a more personal side of the legendary essayist, novelist, and social commentator. As Garner writes:
Among the vivifying things about his "Diaries," issued now in one volume for the first time, is how they restore some first-person flesh and blood to what can seem like his disembodied head. What's more, they show Orwell to be nearly Jeffersonian in his combined passion for politics and for the natural world, not merely for fishing but also for the enlightened and fervent cultivation of vegetables, fruit trees, animals and flowers.
From his passion for gardening, to his relationship with his wife, to his experience fighting in the Spanish Civil War, the amalgamated diary entries of Orwell from the early 1930s until his death in 1950 present a new, full perspective on the writer for the both casual Orwell reader and the advanced scholar.