#YoSoy132 Photo Essay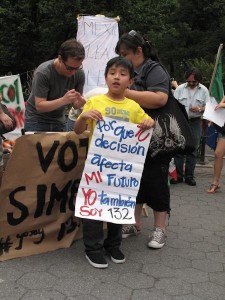 The #YoSoy132 movement is broadening its scope beyond Mexico. On June 30th, many Mexican-Americans living in New York held a "symbolic vote" for Mexico's president in the city's Union Square. As the North American Congress on Latin America reports, the movement is focused on "the democratization of the country's political system and the media." As NACLA also acknowledges, many of those in attendance voiced their support for Andrés Manuel López Obrador, a member of the Center-Left party.
Click here for a photo essay from NACLA covering the event in Union Square, and click here for another blog post regarding the birth and development of the #YoSoy132 movement.