La Colonia: Spanish Immigrants in New York, catalog and videos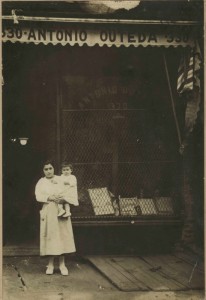 The photo show that I curated –La colonia:  A photo album of Spanish immigrants in New York, 1898 – 1945– is currently on display in León, Spain, thanks to the city of León and the University of Washington, Seattle, which has a program and a site there.  The show originally opened in New York, at NYU's King Juan Carlos I of Spain Center, and then began its Spanish tour last March at the Valey Centro Cultural in Piedras Blancas, Asturias.
The Valey Centro Cultural has produced a lovely catalogue for the show, with reproductions of all of the photos in the exhibition, plus essays by Eduardo Lago, Luis Argeo and myself; it can be viewed and downloaded free of charge here.
The English versions of the essays can be found toward the end of the catalog.
Videoportraits (in Spanish) of the seven descendants of immigrants who contributed photographs to the exhibition can be viewed here.
The Spaniards documented here were mostly working class immigrants who arrived to New York during the first two decades of the twentieth century.  By the time the Civil War broke out in Spain, they had already organized themselves in an impressive array of associations:  social and sports clubs, regional groups, mutual aid societies, and the like.  During the war, many of those organizations would mobilize in support of the Republic. Though the vast majority of these immigrants were supporters of the Republic, there were pro-Franco Spaniards in the city as well, and the years 1936-39 were a time of strife and solidarity in la colonia.
Videoclip of Luz Castaños (in English) on the Spanish Civil War in La colonia.
Videoclip of Joe Mora (in English) on the Spanish Civil War in La colonia.
Videoclip of Anita Yglesias (in English) on the Spanish Civil War in La colonia.
James D. Fernández is ALBA Vice Chair and Professor of Spanish Literature and Culture at New York University.  Read more of his recent blog posts here.