A Lincoln Brigade for Syria?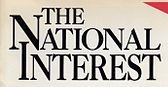 An article in The National Interest debates the merit of forming a volunteer unit to join the Syrian Civil War called the "Second-Chance Brigade" in the wake of recent American political debate over joining the fight in Syria.  Upset by cries to fling American soldiers and supplies into Syria, writer Doug Bandow concludes by noting that
maintaining the peace for this nation—protecting this people—is the U.S. government's highest priority. The government has the greatest responsibility to its own citizens. It is time to say no to more unnecessary wars. If some people can't wait to start another one, they should be the ones to fight it.
To read more, click here.