Talk on photos from the Aragon Retreats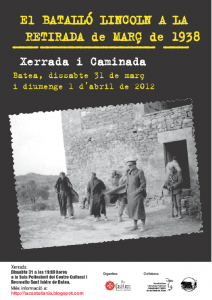 Alan Warren notifies us of an upcoming event around 22 photographs of the retreats in Aragón, depicting American volunteers, for which research has been able to pinpoint the exact location where they were taken (text and announcement in Catalan, in pdf here):
Twenty two photos of the Lincoln Battalion, having been taken during the Aragon Retreats.
To our great surprise, Anna Martí Centellas has been able to supply previously unknown information about a photographs of American volunteers  in the Great Retreats from the Aragon Front in March 1938. Therefore, in 2012, to commemorate the 74th anniversary of this tragic event, the Cultural Association La Castellana, with the collaboration of the Associatio Lo Riu and Recreational and Cultural Centre of San Isidro Batea has organized in Batea, various acts of commemoration to raise awareness of this event.
On Saturday, March 31 at 19:00 in the Recreational and Cultural Centre of San Isidro in Batea there will be a conference on the Lincoln Battalion Retreats in March 1938, by Anna Martí Centellas. The conference will deal with the American International Brigaders. From 18 March until 2 April 1938 in the area of Batea, a short summary of the Retreat and their route from Belchite to Batea and Corbera, where they were intercepted by Franco's troops.
The next day, Sunday 1 April, a March has been organised from Batea to Corbera (30 km) making the same journey made by the Lincoln Battalion in 1938 during their Retreat. The Starting point will be at Venta de San Joan  at 9:00 in the morning. The route is divided into different stages, for those who only want a part of itinerary It will also have support vehicles. It is necessary that participants bring approproiate shoes and clothing and have registered in advance sending an email with your personal data and the number of attendees at: lacastellania@gmail.com
The price of entry is € 10 and includes lunch (picnic) and individual insurance. Anna Martí Centellas: live Viladecavalls (Barcelona) and works in the Information Centre at of the Natural Parc de Munt and Obac.
The origin of this research was some"graffiti" that she found a friend in the village of Aguaviva (Teruel) where her family comes from. The "graffiti" was penned by an American Brigade who died in this period of the Retreats. Thus the motivation for her extensive research on this subject. "We have a house in the village of Massalió (Teruel) which we visit once a month and we are therefore close to the study area."
"I've done this quest with the assistance of my partner. This work has been helped by such people as Alan Warren, Miquel Sunyer of Batea, who has helped us in that area and Vicente Julian from Corbera d'Ebre who has located many photos taken in the area and also has collected in Corbera many oral memories from neighbours concerning this period of the War"