Pro-Franco Propaganda in the US: Russell Palmer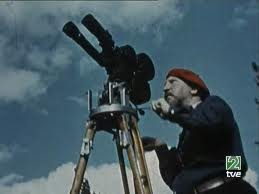 I'm feeling a bit guilty for having subjected the students in my graduate seminar this week to the viewing of all 77 minutes of  Defenders of the Faith, a pro-Franco documentary filmed between 1936 and 1938 by the American journalist Russell Palmer.  The film is narrated by Palmer himself.
To assuage my conscience, I've drawn up a list of reasons why all students of the Spanish Civil War and the Abraham Lincoln Brigade should watch and analyze the film.
*the film was shot in color; these are the only images in color I have ever seen of the war in Spain.
*Defenders of the Faith provides a unique perspective from which to view the repertoire of pro-Republican documentaries made during the war.  There are scenes (on blood transfusions, for example) that seem to be overt responses to –or copies of—similar scenes in films made by the other side.
*Defenders of the Faith is addressed, implicitly at least, to a US audience, and was apparently made to counter the pro-Republican propaganda that was circulating in the US at the time.  The film gives us insight into what pro-Republican information/propaganda was considered most worrisome by Franco's supporters.  For example:
*on the question of Franco's ideology:
the narrator likens the post-war ambitions of Franco to something akin to Roosevelt's New Deal, but "without the class hatred."  (I can't cite verbatim the original narration, as the version I have on DVD was broadcast on Spanish television with the narration dubbed into Spanish.)
*on the question of foreign participation in the war:  At the beginning of a long sequence about Francoist aviation (which includes some incredible footage shot from a warplane), Palmer remarks, offhandedly, that because Spain does not have airplane factories, all planes in the Spanish Civil War are imported.  He then visits a detachment of Francoist airmen, affirming that all of the pilots and flight-crew the are "pure thoroughbred Spaniards."  Elsewhere in the film, he explains that the "Foreign Legion" is made up of Spaniards –clarifying that they are known as "foreign" because they fight in foreign wars.  So the role of Germans and Italians on the Francoist side is minimized.  The film, nonetheless, does give considerable prominence to Franco's "Moorish volunteers"; we see them marching and convalescing in a special hospital where, we are told, they can be treated according to their own customs; we learn that the "moors" are remarkably efficient and reliable soldiers, and that they consider the pro-Republican forces as "infidels" because they desecrated Christian churches (¡!).
In one of the most chilling scenes of the documentary, the camera lingers over the racially and ethnically diverse faces of a group of captured American volunteers.  What I find most remarkable in this scene is how the narrator basically shuts up, allowing the images "to speak for themselves," affirming, more or less  "These are the faces (predominantly faces with Black and Asian features) of the kinds of people that are currently in Spain fighting against Franco."  No commentary is needed.  We know from their testimonies how many African-American volunteers saw the struggle in Spain as part-and-parcel of the fight against racism in the US; this quick scene in Palmer's film gives us access to the despicable flip-side of this connection; it's enough to see the faces of these men to know that they are on the wrong side…