There's a Valley in Spain…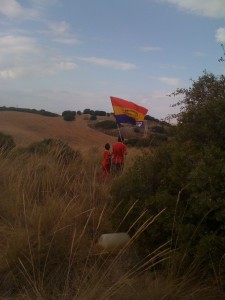 Today,a group of about twenty "Friends and Family of the Abraham Lincoln Brigade" and three ALBA Board members (J. Fernández, G. Herrman and Marina Garde), visited the Jarama battlefield.  From the vantage point of an appropriately makeshift memorial to British volunteer Kit Conway and other fallen British volunteers, we surveyed the valley and points of interest, such as El Pingarrón and La Colina del Suicidio (Suicide Hill).  We were among four busloads of friends and family of volunteers from more than 10 countries, and four surviving IB veterans; the visit was part of the commemorations of the 75th anniversary of the formation of the International Brigades, organized by the AABI  (Asociación de Amigos de las Brigadas Internacionales).  An unforgettable day, which started at the Cementerio de Fuencarral, and ended with a banquet  in Rivas Vaciamadrid with spontaneous speeches and songs.
The "Friends and Family" left from Rivas for Albacete; from there they will travel to Barcelona to continue the commemoration.
More pictures here.