The Future of ALBA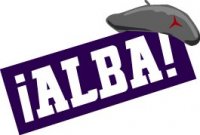 Planning for your will and your legacy? The Veterans of the Abraham Lincoln Brigade established their legacy with the Abraham Lincoln Brigade Archives. Now you can continue their "good fight" by establishing a legacy gift to ALBA in your will. As a non-profit educational organization, 501(c)(3), ALBA can accept legacy gifts in any amount, large or small. Please help us continue to expand our horizons, and your beliefs, and help us to teach the Lincoln Brigade's legacy to the next generation and beyond.
And did you know that when you reach 70½, your mandatory yearly withdrawal from your IRA can be made as a tax-deductible gift directly to ALBA from your IRA, free of tax consequences? Please consult your tax advisor and estate planner about these wonderful opportunities that will expire after 2011!
For more information, call us at 212-674-5398 or email info@alba-valb.org.