Robeson Display Traces Fight for Equality and Unions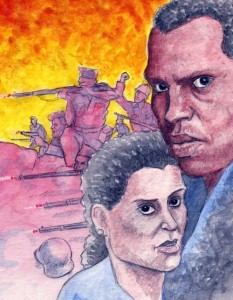 Mike Hall writes for the AFL/CIO blog about a new online exhibit on the activism of Paul Robeson, who famously traveled to Spain in support of the Spanish Republic and the volunteers of the Lincoln Brigade:
Paul Robeson, once the premier African American artist of the 20th century, is well known as a scholar, athlete, actor and activist. Less well known is his long commitment to the union movement and his belief that the achievement of full equality for African Americans and other people of color is inextricably linked with the full equality of America's working men and women. Now you can learn more about Robeson's commitment to unions and equality at the Labor Arts' new virtual museum exhibit of "Old Man River: Paul Robeson and the National Maritime Union."  The exhibit features eight songs by Robeson in NMU settings: "Waterboy," "The House I Live In," "Ol' Man River," "Joe Hill," "Oh, No John," "It Ain't Necessarily So," "The Peat Bog Soldiers" and "Shenandoah."
Click here to view the exhibit and hear the songs. See here for the special Robeson issue of the Volunteer by ALBA's Peter N. Carroll and Joshua Brown.