ALBA co-sponsors major show of Spanish war photographer Centelles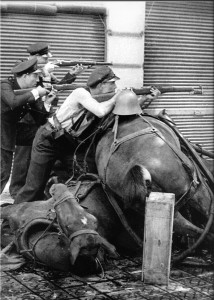 The first major exhibit featuring the Spanish Civil War work of Catalan photographer Agustí Centelles (1909-1985), co-sponsored by ALBA, is opening at NYU's King Juan Carlos I of Spain Center on October 5th; a symposium on Centelles' work featuring six speakers will be held on at the Center on November 30th, including NYU's Susie Linfield and Jordana Mendelson, ALBA's Jim Fernández and Sebastiaan Faber, as well as our old friend Juan Salas.  Agustí Centelles: The French Suitcase, on show until December 17, will be the first exhibit of 40 photographs Centelles took in Barcelona in the first few hours after the military uprising on July 18, 1936; his photo-reportage throughout the war; and the extraordinary photographs taken at the French concentration camp in Bram.
Centelles, whose archive was purchased by the government in Madrid to be included in the national Civil War archive in Salamanca, is considered the most important among the Spanish photographers covering the Civil War. Last year, his portrait of a young black volunteer–included in the exhibit–set off a global detective search. The photography show at the KJCC will be accompanied by an exhibit at NYU's Tamiment Library of original international magazines featuring some of Centelles' images.