Preston's "Spanish Holocaust" reviewed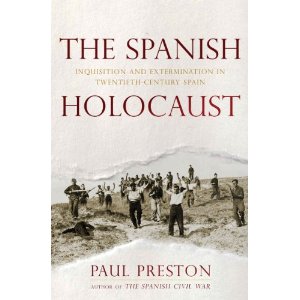 A "relentlessly harrowing read": that is how Nick Lyne characterizes The Spanish Holocaust, Paul Preston's new book on the repression during and after the Spanish Civil War, which was published in Spanish earlier this year and is due out in the UK next spring:
provides, page after page, factual, documentary accounts of the systematic policy introduced by Franco early on in the war to rid the country of the red menace and to install a reign of terror among the few that might still contemplate resistance.  … Not that Preston ignores the crimes committed by Republicans. Around 50,000 supporters and suspected sympathisers of the nationalist cause were murdered in Republican-held areas — and most of them have been accounted for. But three times that number were put to death in zones controlled by Franco's forces.
Read the whole, extensive review in IberoSphere here.