Controversy around Picasso Exhibit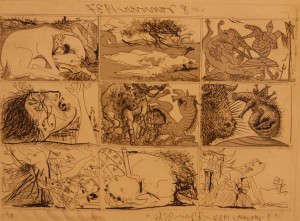 Picasso's daughter-in-law doesn't like the political nature of latest exhibit at the Picasso museum in Málaga. The Independent's Andrew Birch covers the story:
The new show, "Viñetas en el frente" (Cartoons on the front line), is unashamedly partisan, consisting of Republican posters and cartoons from the Spanish Civil War, and famous anti-Nazi graphic works by artists such as George Grosz and John Heartfield. The heart of the show is the extraordinary set of Picasso engravings; "Sueño y mentira de Franco" (Dreams and Lies of Franco), in which Picasso's visceral loathing of the former Spanish dictator spills out in a series of violent, sexual and bitingly funny images that still have the power to shock today.
More here. For more on the engravings, see also Martin Minchom's recent essays in the Volunteer.