New book on Hemingway in Spain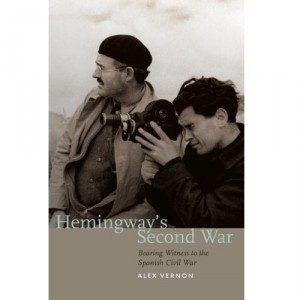 The University of Iowa Press has just published Hemingway's Second War: Bearing Witness to the Spanish Civil War by Alex Vernon:
In 1937 and 1938, Ernest Hemingway made four trips to Spain to cover its civil war for the North American News Alliance wire service and to help create the pro-Republican documentary film The Spanish Earth. Hemingway's Second War is the first book-length scholarly work devoted to this subject. Drawing on primary sources, Alex Vernon provides a thorough account of Hemingway's involvement in the Spanish Civil War, a messy, complicated, brutal precursor to World War II that inspired Hemingway's great novel For Whom the Bell Tolls. Vernon also offers the most sustained history and consideration to date of The Spanish Earth. Directed by Joris Ivens, this film was a landmark work in the development of war documentaries, for which Hemingway served as screenwriter and narrator.
Buy the book at Powell's and support ALBA. See also previous Volunteer coverage of the forthcoming film on Hemingway and Martha Gellhorn.