ALBA board member co-writes play on 1911 Triangle Fire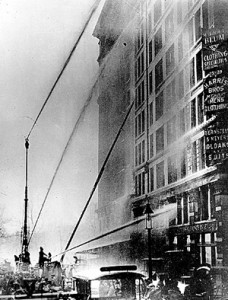 Dear Friends: I wanted to let you know that there will be an Off Broadway production of "Triangle," an historical drama I've co-written with Sarasota based playwright Jack Gilhooley. 59 E. 59 Theaters will present the play as an Equity Showcase from April 14 through May 1. Amidst all the events surrounding the centennial of the Triangle Fire, I think this is the only full length narrative drama out there. It's a genuine collaboration between historian and playwright, and we hope the sum is way more than the parts. Here's a brief synopsis of the play; more details, tickets info, and schedule can be found here. I hope some of you can make it.
Turn-of-the-century New York's political underworld and immigrant energy come to life in this new play focused on the tumultuous love affair between the legendary political boss "Big Tim" Sullivan, roguish and colorful "King of the Bowery" and the beautiful actress and reformer Margaret Holland. After years of an adulterous affair that produced a daughter, the notorious Tammany Hall power broker and the Seven Sisters' graduate find themselves inextricably bound by the horrible Triangle Shirtwaist Factory fire of 1911. The tragedy claims the lives of 146 victims, mostly Jewish and Italian women and children. In its bitter aftermath, Sullivan and Holland fight to end the horrors of sweatshop labor, even as he is losing his mind to the ravages of syphilis.
"Triangle hits a home run in its depiction of the Triangle Fire and the burgeoning America at the turn of the century. The characters are striking, tough, and larger than life. The play deeply affected me." –Ed Asner
More information here.