ALBA Annual Celebrations: tickets now available!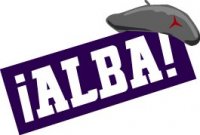 Tickets for ALBA's annual celebrations in New York and the Bay Area can now be purchased online.  The New York program–on May 14th, at the Eisner/Lubin auditorium on Washington Square, New York City (tickets here)–will feature Judge Baltasar Garzón, who will receive the first ALBA-Puffin Award for Human Rights Activism, alongside Michael Ratner, director of the Center for Constitutional Rights, and Larry Cox, director of Amnesty International USA, and a musical program directed by Bruce Barthol. Tickets are $45 (general) and $25 (students). Click here if you are interested in attending an exclusive pre-event fundraising gathering.
The Bay Area program–on May 29th at Freight & Salvage (tickets here)–will feature Jeff Paterson, of Courage to Resist, who will speak on the political and legal struggle to defend Army Pfc. Bradley Manning, accused WikiLeaks whistle blower, and a stirring musical performance of Spanish Civil War Songs of Courage & Resistance, once more directed by Bruce Barthol.
For ticket information click here (New York) or here (Bay Area), or visit the ALBA website.