Orwell, Miró, and revolution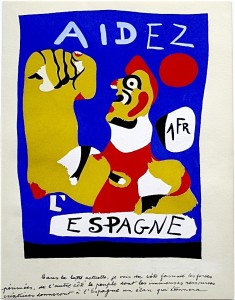 The Guardian's Jonathan Jones reflects on George Orwell and Joan Miró's engagement with the Spanish Civil War:
Miró, like Picasso, reacted with deep emotion to the plight of Spain. His paintings see the violence of civil war in an old shoe, in the prongs of a fork, in a colossal woman. Like Goya, he probes the horrors of a society tearing itself apart. But Miró and Picasso were not themselves fighting in Spain, and their support for the republican cause was not complicated by any investigation of its failings. That is why, although the Spanish civil war generated some of the greatest art of the 20th century, if we want the real lowdown on Spain we will always go beyond images to a work of journalism.
More here.