Peter Carroll's "Keeping Time" reissued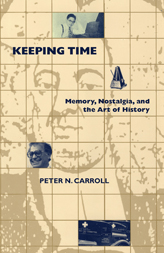 The re-publication this month of my memoir, Keeping Time: Memory, Nostalgia & the Art of History (University of Georgia Press), may be of interest to those who wonder how and why I got involved in writing about the Abraham Lincoln Brigade and the Spanish Civil War.  I'll be discussing this background on Thursday January 20, 7 PM at Revolution Books (146 W. 26th Street between 6th & 7th Avenue) in Manhattan.
Back in the 1970s and 80s, when I began collecting oral histories of some Lincoln vets, I found it impossible to interest a publisher to undertake a history of the U.S. volunteers in the Spanish Civil War. Some editors were put off by the connection to the communist movement, some by the lack of commercial possibilities.  I pitched article ideas to some magazines and got rejections, except for a few alternative publications like the San Francisco Bay Guardian. I also wrote book reviews for small magazines and weeklies.  But the general response was that the topic was either too radical or merely passé for U.S. audiences. By the mid-1980s, I'd come to believe that I could never write a book about American participation in the Spanish Civil War.
So when I turned to the theme of "Keeping Time" and the work of a non-academic historian, I included my early adventures in trying to nail down the vets about their remarkable history. Little did I realize that the sudden end of the cold war and the aging of the vets would radically change the opportunities for research and writing.  That led directly to The Odyssey of the Abraham Lincoln Brigade (1994).