Penny Feiwel (1909-2010)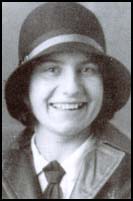 Marlene Sidaway, President of the IBMT, writes with sad news:
It is with great sadness that the IBMT announces the death of Penny Feiwel (nee Phelps), the last surviving nurse from the Spanish Civil War.  Penny was 101, and died in Bournemouth on the 6th January.
Penny was not politically motivated to go to Spain, but she realised that "Nursing in Spain had been mainly the province of Nuns, and most were with Franco, leaving the Republicans short of nurses."  So she offered her services to the Spanish Medical Aid Committee.  Her time in Spain has been well documented elsewhere, but she was incredibly strong, brave and hardworking in the most terrible conditions. Almost single-handed she prevented an outbreak of Typhoid and established an isolation hospital in Quintana for the Garibaldi Battalion, as well as running a clinic there for the local population. She was a Theatre nurse during the battles of Tarancon, Jarama and Brunete, and during the retreats, but her time in Spain ended when she was very badly injured in a bombing raid, and at her insistence was finally evacuated back to England for surgery, and recovery.
Since the International Brigade Memorial Trust was formed 10 years ago, Penny has been a key member, always ready to help the cause of remembering her comrades in Spain, and gathering love and admiration from all who knew her, we will miss her very much.
Read more on Penny Feiwel here.