Nate Thornton (1915-2011)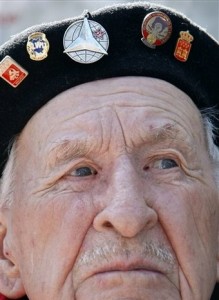 Georgia Wever writes with sad news:
Last night, James Nathan "Nate" Thornton passed away just short of his 96th birthday.  His wife of 24 years, Corine, phoned FFALB this morning to tell us that he had a peaceful death at home, watching "60 Minutes" on TV. Nate volunteered for the International Brigades with his father and served as a driver. A carpenter, wood-carver, member in good standing
of the ILWU, an activist with School of Americas Watch and in solidarity with Cuba, he was also prominent in the Bay Area Post of Veterans of the Abraham Lincoln Brigade (VALB). Nate and Corine were supporters of Activists Forever! Friends & Family of the Abraham Lincoln Brigade (FFALB) from its inception.  For us, it is a deep loss.
Our hearts reach out to his wife, Corine. She can receive cards at 5499 Country Club Drive, Rohnert Park, CA  94928. For more information about Nate Thornton, read the booklet I am an International: Nate Thornton's Story, published by Noyo Hill House in 2010.
Details on the memorial service will be announced at a later day. Click
here
for a 2009 interview with Nate in the
East Bay Citizen.