General Miaja in Brooklyn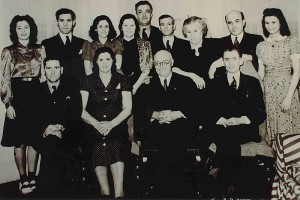 In my family's photo albums is this shot of General Miaja (seated with round spectacles) –leader of the defense of Madrid– in the living room of the Brooklyn home of my grandparents at some point during the Spanish Civil War.
My grandparents, José Fernández and Carmen Alonso emigrated to New York from Asturias, in northern Spain, in the early decades of the twentieth century.   José (to Miaja's leftl) went first to Cuba, then to Tampa, before settling in New York and opening a small cigar shop.  Carmen (to Miaja's right) emigrated directly from her village near Ribadesella (Sardéu) to New York, where she worked as a live-in maid in the home of Richard Medina, a coffee importer of Mexican origin.  Carmen and José met around 1920 at a picnic organized by the city's Centro Asturiano.  The other people in the picture are two daughters and several friends of my grandparents.
By the time of the Spanish Civil War, José must have been a high-ranking official in the Centro Asturiano, which would help explain why he hosted this eminent guest –Miaja was also an "asturiano"– at his home on Stratford Road (between Beverley and Courtelyou) in the Flatbush section of Brooklyn.