Zaragoza: 100 years of Anarchism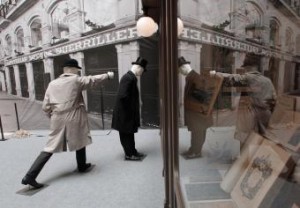 The exhibit Tierra y Libertad, 100 años de anarquismo en España, (Land and Freedom, 100 Years of Anarchism in Spain), covers the history of the anarchist movement in Spain on the occasion of the 100th anniversary of its founding. On view in Zaragoza until December 8th, the exhibit is an attempt to do justice to a complex movement that tends to be reduced to only one of its aspects, namely its use of political violence. According Julián Casanova, professor of Contemporary History at the University of Zaragoza and curator of the exhibit,
As soon as an anarchist assassinated someone, such as Manuel Pardiñas who killed the President of the Council of Ministers in 1912, in the photo which opens the exhibit, they turned themselves in while their guns were still smoking. They believed they had performed a service to humanity. They have gone down in history as simple terrorists but they were not only violent. If all they did were violent acts, they would never have become a mass phenomenon. Anarchism is much more: culture, unionization, egalitarian idealism…
The exhibit is full of unique pieces held by private collectors that have never been shown in public before. One such item is a a flag of the CNT (the anarchist union Confederación Nacional de Trabajo), taken home as a trophy by the Italians who supported Franco, and bought by a collector in a flea market in Rome, years later. Another is Durruti's uniform, who was killed while defending Madrid in 1936.
The exhibit has a companion book, also coordinated by Casanova: "Tierra y Libertad; 100 años de anarquismo en España", published by Crítica, as well as a conference for historians on the subject, all supported by the Aragon government, the provincial government of Huesca and the Town of Zaragoza.
The exhibit, which Casanova hopes to take to Barcelona and Toulouse, includes a section on the Civil War, the golden age for the movement, when four anarchists held ministries in the Republican government, a worldwide first. Among them was the first woman to ever be a government minister in Europe, Federica Montseny, Minister of Health. The walls are filled with anarchist slogans such as "Property is theft". More here