Valley of the Fallen Changes Use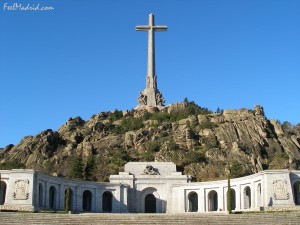 The Spanish Senate approved a proposal to enforce the Law of Historical Memory by converting the Valley of the Fallen monument into a site which will recognize the victims of the Civil War and Franco's dictatorship, reports Natalia Junquera, for El País .
The progressive coalition, Entesa Catalana del Progrès, (made up of the parties PSC, ERC and IU-ICV), had presented the motion to the Senate asking the government to repeal the 1957 law that defines the Valley of the Fallen monument as a homage to the "crusade" for liberation that Franco billed the Civil War as, and redefine it as a center devoted to recovering historical memory.
Every party except the Popular Party (PP) approved the motion to convert the monument that Franco designed to immortilze his victory into a place that will
honor the memory of all those who were killed during the Civil War and the political repression which followed, in order to learn more about this period of history.
The Popular Party claimed they opposed this change because the motive behind it was to eliminate the Benedictine abbey. They defended the monument as "one of the most often visited in Spain". The PSOE (Socialist party currently in power) added an amendment to assure that the Valley of the Fallen would "stop being a place to extol Franco".
"We have to cut the umbilical cord with Francoism", Joan Josep Nuet, the Senador from Entesa who presented the motion declared. Nuet explained that today, over half a century after the monument's inauguration masses in memory of Brother Francisco Franco are still being held in the crypt at the Valley of the Fallen. Can you imagine someone today in the Cathedral in Cologne or Milan remembering Brothers Adolf o Benito? No, you can't because in Germany and Italy, these things don't happen".
Iñaki Anasagasti, of the PNV (Basque National Party), joked that perhaps it would be best to blow up the monument, although, "on the other hand, that might wake up Brother Francisco and we wouldn't want that".
The Government has six months from September 22nd to respond to this initiative.