Valley of the Fallen, at the center of new debate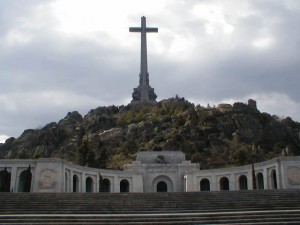 Today, the day Spain commemorates its conquest of Latin America (Día de la Hispanidad), known as Columbus Day in the U.S., the Spanish Minister of Justice spoke on Spanish national public television to defend the research going on at the Valley of the Fallen, and denied that any mass graves are being exhumated yet.
The government responded to information published in the magazine Interviú, which affirmed that a forensic team examined the crypts in the Valley of the Fallen in September to locate the remains of "nine libertarian militants who had been assassinated during the Civil War. "
According to Interviú, the operation was carried out secretly, and "there was no court order to open the graves."
In the government's version, in order to comply with the Law of Historical Memory and a Congressional mandate that required the government to undergo a census of those buried in the Valley of the Fallen, the Executive carried out a forensic study to determine the state of the remains and viability of any future exhumations.
The Minister of Justice stated that when the research is finished, the government will publish the conclusions not only to the full range of political parties in parliament, but also to the associations and family members who have expressed interest.
The President of the Association for the Recovery of Historical Memory (Asociación para la Recuperación de la Memoria Histórica), Emilio Silva, criticized the government's "lack of transparency " regarding the opening of crypts and ossuaries in the Valley of the Fallen which hold the remains of Republicans who were forced to build the monument.
The Secretary General of the Association War and Exile Archives (Asociación Archivo Guerra y Exilio), Dolores Cabra, has also manifested her disagreement with any disinterment  that is not carried out in a judge's  presence to insure the preservation of evidence of what she considers "crimes against humanity", and has called for the recognition of those crimes.