Planeta Award goes to Civil War Novel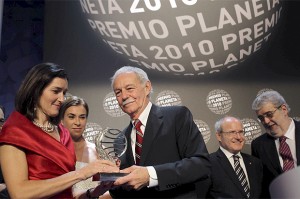 The most prestigious literary award in Spain, the Planeta, went to Eduardo Mendoza's latest novel, Riña de gatos. Madrid 1936 (Cat Fight; Madrid, 1936) on Oct. 15th, according to El País.
Eduardo Mendoza competed against 508 other novelists, mostly from Spain and Latin America, to win the 601,000 euro prize.
In his acceptance speech, Mendoza said:
We all have to come to terms with the Spanish Civil War. It continues to be of interest… there is an entire generation of young readers who are very intrigued by the subject. Riña de gatos, does not have a political message, rather it is set in a political context. It is not a novel about the Civil War, it's a thriller that deals with moral dilemnas. It asks the readers to think what  they would do if they were in pre-war Madrid.
The novel starts with a young British expert in Spanish painting who travels to Spain in the Spring of 1936 to evaluate if a painting is really by Velázquez. Mendoza's style is clearly present: the expert immediately becomes involved in both a crime and political plot involving real historical figures including José Antonio Primo de Rivera and several  generals such as Sanjurjo, Queipo de Llano and Franco.
Mendoza has connected more with readers than most novelists, with books  based on contemporary Spanish history such as  La verdad sobre el caso Savolta, his first novel, which he wrote while living in New York in 1975, where he worked as a translator at the UN.
The novel for which he is best known is  La ciudad de los prodigios (1986), which was the basis of a movie by the same name.