Exiles' descendants speak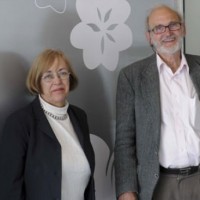 This past May Javier Nuñéz, reporting for Deia, interviewed Ludivina García and Ceferino Álvarez (who passed away in August), of the Association of Descendents of Spanish Civil War exiles, on the the Garzón case and the quality of Spanish democracy.
When asked what they thought about Garzón being debarred for investigating these crimes, Ludivina García said:
We don't deify Garzón. He did what any judge should have done. What happened is outrageous.  People outside the country are astonished by what's going on here. We're talking about a dictatorship that lasted 40 years and that some want to make more palatable. There are still people in key decision-making positions who continue to make it difficult for people to know what really went on.
Ceferino Álvarez added:  "Although there are now elections in our country, real democracy is still to be acheived. Fraga did not go to bed one night being a fascist and wake up the next morning a democrat. Democracy does not only mean being able to vote. It is much more than that, we cannot weaken this word. Can a country be democratic that condemns a judge for investigating genocide committed under Franco?" More here